Threshing bee in McLouth honors longtime participant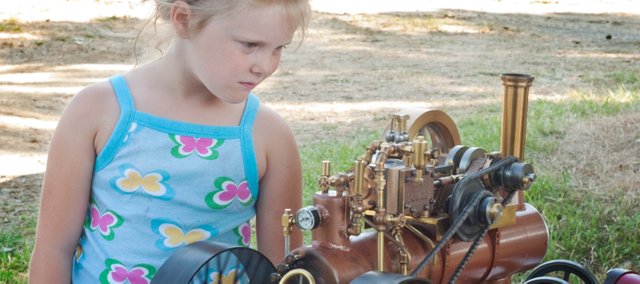 Photo Gallery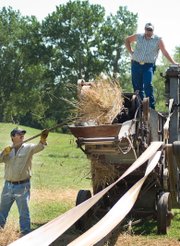 McLouth Threshing Bee
The 52nd annual McLouth Threshing Bee was held at the threshing bee grounds Friday and Saturday.
The 52nd annual threshing bee in McLouth was bittersweet for Eugene and Jane Wentz.
Sweet because the threshing bee always falls around their anniversary, and was in fact the site of their wedding on Aug. 9, 1998.
Bitter because Les McDonald, the son of their longtime friend Gayle McDonald and an avid steam engine enthusiast, died earlier this year. Jane said Gayle has been a part of the McLouth Threshing Bee for more than 40 years.
"He was an incredible young man that loved those steamers," Jane said about Les.
Eugene echoed his wife's remarks.
"Every time there was a steam engine show in the area (the McDonalds) would go down to them because they knew how to operate the engines," said Eugene, a former board member for the threshing bee. "A lot of people that own the steamers don't know how to use them so they would call Gayle and Les to run them. For a young man, he knew all about them."
To honor Les, this year's event was dedicated to the 34-year-old.
Jane said Gayle was not able to make it to the event because earlier in the year Gayle and Les had made plans to visit another show in Iowa this year, and he didn't want to change his plans.
There were several changes to this year's event, which really brought out the steam-engine purist.
The regularly scheduled outlaw tractor pulls were moved to the previous weekend, and the garden tractor pull and the ATV pull were canceled because of scheduling problems.
That meant a smaller crowd for those interested in antique cars and tractors, and those interested in seeing steam power at work.
Bill Robinson Jr. falls in the latter category.
Robinson spent the better part of five hours on Friday and three hours Saturday warming up the 1919 Advanced Rumley steam engine that has become a staple of the threshing bee.
"When this show started in 1957, this was the engine that was used to start the show," Robinson said. "This is the original."
Robinson said he has been operating the steam engine, which belongs to his father, B.J. Robinson, for about 15 years.
More like this story