Fatherley, Maus receive Elliott Heart Award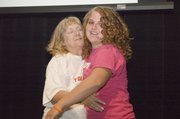 This past spring, Lindsey Fatherley and Jeremie Maus helped conceptualize the Elliott Heart Award, named for their Tonganoxie High classmate Jeremy Elliott, who died April 17.
They had no idea then that after a summer of leadership and hard work at THS strength and conditioning sessions, coaches and fellow athletes would vote them the award's inaugural recipients.
On Thursday at Chieftain Power Awards Night, Fatherley and Maus received a plaque that featured a photo of Elliott and a congratulatory hug from a special presenter, Lisa Elliott, Jeremy's mother.
While introducing her to the audience at the THS Performing Arts Center, Tonganoxie athletics director Brandon Parker said he admired Lisa for her character.
"You want to talk about strength? All of us combined are not stronger than her," Parker said. "She's an amazing person."
Her presence made it a special and emotional occasion for Maus, a longtime friend of Jeremy. He said winning the award meant a great deal to him.
After he, Fatherley and Jeremy Carlisle came up with the Elliott award in their Tonganoxie leadership class, Maus set out this summer with a goal of winning it. But Maus said even if he hadn't been the winner, he felt as though he was working at a level that would honor his former football and wrestling teammate.
As one of three THS students to attend every single summer workout session, Maus said it was no easy task to awake at 5 a.m. four days a week, then head to the gym for an intense workout.
"Some mornings I didn't want to get up when my alarm clock was going off," Maus said.
Entering this summer coming back from ACL surgery, Fatherley said she often thought of Elliott, who was known for his intensity and dedication to athletics.
"He was an athlete who wasn't just blessed with it," Fatherley said. "You see growing up, I was in fourth grade with Jeremy. You've seen him progress. All you would see was hard work. That's all the kid knows."
She said Elliott's picture was up on the wall during workouts and it was easy to be inspired.
"This dude did it every day. He worked through it, so keep going," she said of her thought process.
Parker said the award was established to honor Elliott, a hard worker who "showed heart," "was wiling to help others" and "wouldn't let you down."
Elliott died due to a heart condition April 17 hours after winning the boys javelin event at Tonganoxie's track invitational.