Soccer careers continue for Tonganoxie teammates
Gagne, Phelps to play at college level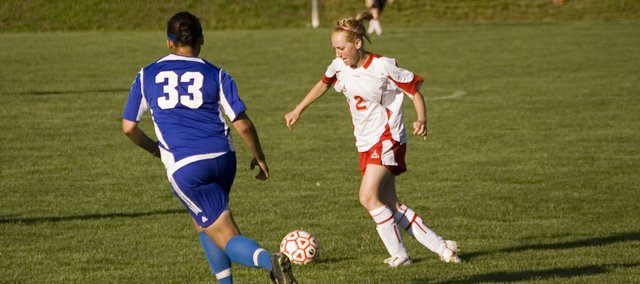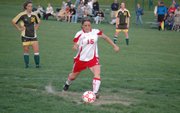 After spending the past four years at Tonganoxie High not only as teammates but also as self-described "soccer buddies," there were points in time this past year when Chieftains Jordan Gagne and Addy Phelps both thought their playing days might be over.
A tear of the meniscus in Gagne's right knee scared her into thinking she might have put on a soccer kit for the last time. Phelps, on the other hand, was just planning on calling it quits after her senior year.
Both 2009 THS graduates, however, are moving on to play at the college level. Gagne signed with Butler Community College in El Dorado and Phelps signed to play at University of Saint Mary in Leavenworth.
The two will open new chapters in their careers this week at campuses nearly 150 miles apart and they are excited for what's in store.
Reconsideration
Phelps has been prepping herself all summer for the rigors of three-a-days, which begin on Saturday. This time a year ago, she had no idea she would be on a college roster.
"I wasn't going to play soccer," Phelps said.
She thought she had enough of the game. After playing year-round since the seventh grade, Phelps just figured she would leave soccer behind when she graduated. That train of thought derailed when Tonganoxie lost its last match of the season, 2-0, in a regional at Bonner Springs.
"I decided I really did want to play and would regret it and miss it if I didn't play," she recalled.
Then and there Phelps resolved to take USM up on the program's offer to make her a Spire.
"I changed my mind whenever we lost," Phelps said. "It just kind of made me sad."
She visited the campus in late May and signed. It was a move that didn't at all surprise Gagne.
"I can't imagine her not in soccer," she said of Phelps.
Another shot at playing
Of course, Gagne was dealing with another unimaginable scenario: Missing her entire senior season.
A Kaw Valley League honorable mention recipient as a junior, Gagne never got the chance to showcase her skills during the 2009 season. But that didn't make Butler coach Adam Hunter, who had seen her play just once in 2008, rescind an offer to sign with the Grizzlies.
That loyalty meant a lot to Gagne, who had two surgeries on the knee that she injured last September. When Hunter asked her about her soccer goals and told her he would help her achieve those — even though they would involve more rehab — it was a no-brainer.
"They were willing to provide the care that I needed," Gagne said.
She is still in the rehab process. Although classes start next week and she moved to El Dorado this past weekend, Gagne has not yet been cleared for soccer activities. She started running a while back before suffering a minor misfortune by aggravating the injury during water aerobics. She had to quit running but plans on doing all other workouts — core and upper body — with the team as it prepares for the fall campaign.
"I don't know if I'll get to play this season," Gagne said. "We'll just have to wait and see how the recovery process goes."
She already is lined up with an El Dorado physical therapist and is looking forward to a full recovery.
"We're just going to try and get me in tip-top shape again," she said.
Plenty in common
Even though the former Chieftains have moved on, their paths look fairly similar. Not only did they both think their soccer careers had finished but they also could have parallel experiences at the college level.
For starters, both are joining former THS players at their respective new schools. Gagne will see the familiar face of goalkeeper Sarah Flaherty at Butler and Phelps will team up with Katy Kolman at USM.
The college freshmen also are considering similar professional paths. Phelps plans to major in nursing and Gagne is interested in the health care field as well, perhaps neonatal care.
There's one other thing they have in common. Each is happy her former teammate is still playing soccer.
Phelps said she always knew Gagne would get that chance — even after her injury.
"It wasn't really a surprise to me. She's a good player," Phelps said.
And Gagne is glad her buddy didn't prematurely retire.
"I'm extremely happy for Addy," Gagne said.