Showtime at fair highlight for 4-H'ers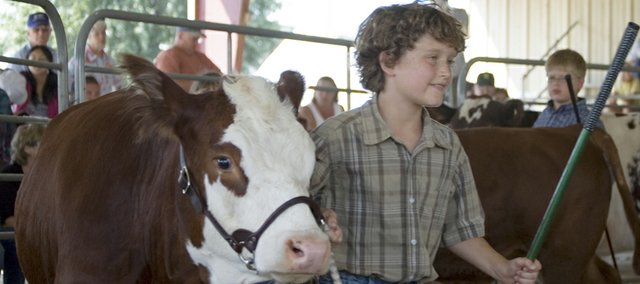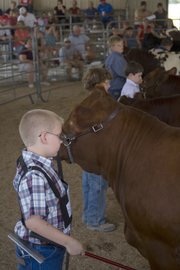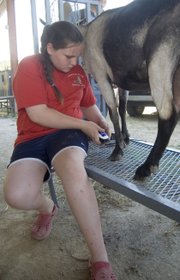 Every year there's a lot to experience at the Leavenworth County Fair, but for 4-H members the five days of fair fun are more about livestock than living it up.
Whether its their swine, sheep, goats, cattle or other animals that are being examined, the clubbers have been working for months — or longer — on their showmanship while training their livestock for the fair, so that is where their focus lies.
Cody Theis, 15, Leavenworth, is involved in plenty of 4-H activities — his wheat and corn earned him a few crop awards. But its his cattle and pigs that keep him busy at the fair.
Theis said 4-H competitors have to care for their livestock. They water them when it gets too hot and keep them hydrated to maintain good health. A 4-H'er since 7, he said all that is easier now that he is older.
"As life goes on, it kind of grows on you and it just becomes involuntary," he said, explaining that the same could be said for the older cattle he shows because they are easier to handle the longer they have been around.
Megan Green, 12-year-old member of the Happy Helpers, said she, like most 4-H'ers, put in a lot of work in preparation for the fair. Green, of Leavenworth, shows goats and swine, and she goes through a lot of trouble training her goats from the start. It can be a hassle teaching a goat how to stand properly for the judges.
But it's worth it come showtime.
"That's my favorite part," Green said.
She won grand champion with one goat and placed third with another. Green said there's nothing like the rush of hearing the show results.
"I feel like really excited," she said.
The 2009 installment of the Leavenworth County Fair is the fifth go-round for Justin Leslie, Tonganoxie. Although the arts side of 4-H appeals to him — he constructed a saddle stand for the woodworking competition and brought home some blue ribbons for his photography that showcased Leavenworth County State Lake — the 12-year-old gets the biggest kick out of showing his goats and horses.
Despite the fact his buck won best in show, Leslie gets the most enjoyment out of his goats.
Leslie called the goat funny, explaining that they entertain him with their appetites and jumpiness.
"They eat almost anything, like your shirt," he said, adding a hungry goat will nibble fabric right off someone's back. "When you're showing them, they try to jump up on their back legs sometimes. I just think they are kind of funny."
The livestock are plenty of entertainment — and work — during fair week. Theis said he made time to get away for a bit.
"You've got to care for your animals but you get some time for yourself to get out and have fun with your friends and stuff like that," he said.
Many 4-H'ers walk around for a break, stopping to chat with friends. And at night, plenty of them check out the rodeo, carnival and other attractions. But Green said showing livestock is the highlight of the week for her, and most of her peers would agree.
The attraction of carnival rides notwithstanding, Leslie didn't hesitate when asked to pick the part of the fair that provided the most fun.
"Showing my goats," he said.