At the fair: Senior Day once again a hit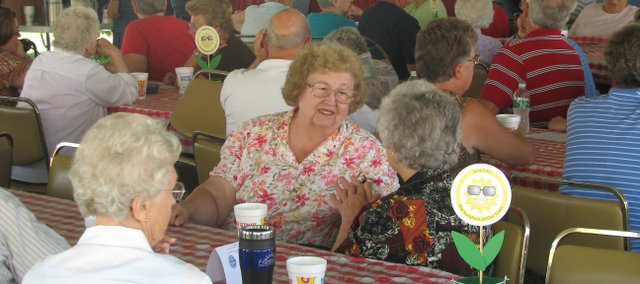 Many Leavenworth County Fair activities cater to a younger crowd, but a portion of one day is dedicated to those enjoying their golden years.
The event known as Senior Day took place from 10 a.m. to 1 p.m. Friday. Seniors in the area had the opportunity to come to the fair and listen to music, play bingo, eat a picnic meal and take a trolley ride around the fairgrounds, all free of charge.
Linda Lobb, executive director of the Leavenworth County Council on Aging, said the council had approached the fair board about eight years ago to discuss adding a senior event to the regular fair activities.
"Friday is usually kind of a slow day at the fair," Lobb said. "We thought this would be a good opportunity to boost attendance for the day and to give something to seniors."
Businesses in the area donated food and money to make Senior Day possible, and Lobb said nearly 250 people benefited from those businesses' generosity this year.
"We're so thankful to have them doing this," Lobb said of the organizations that donated to the effort. "We think it's important to do something for (seniors) because they have contributed a lot to our society over the years. We need to give back."
Anna Mary Landauer attended Senior Day and said it was a great way for people in the area to connect with each other.
"I think it's wonderful to get all these people together," Landauer said. "It's a great way to get to know your neighbors around the county."