Forget summer: Fall sports season is here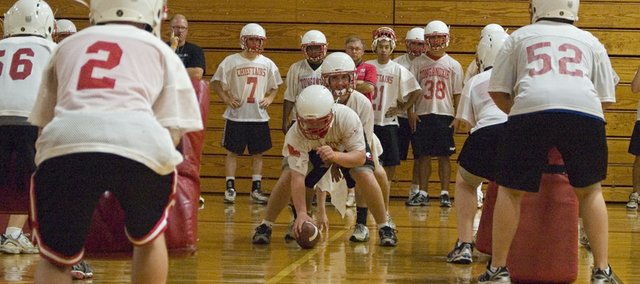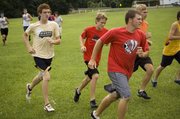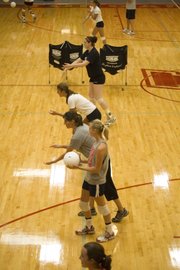 As of Monday morning, the summer is officially over for Tonganoxie High and its athletes with the first day of fall sports practices.
In Tonganoxie, like most towns, a lot of the local buzz that comes with the start of fall sports is centered on the football team.
Tonganoxie had a rebound season in 2008, going 5-4 with wins against Prairie View, Osawatomie, K.C.-Wyandotte, Santa Fe Trail and Piper. The Chieftains' main problem was keeping up with their more talented opponents — three of their four losses were lopsided blowouts.
The '09 slate for THS features the exact same foes, so it will be interesting to see if the Chieftains can compete with the likes of Perry-Lecompton, Basehor-Linwood and K.C. Ward this time around.
At camp and workouts this summer, Tonganoxie coach Mark Elston was excited about the number of "gamebreakers" the Chieftains have on their roster this fall. Between speed demons DJ Lindsay and Jeremy Carlisle, tough inside runners Austen Holloway and Jeremie Maus and home-run threats Dylan Scates and Shawn Marin, just to name a few, THS has the talent to swing momentum before its opponent knows what happened.
In volleyball, Tonganoxie went 26-15 and lost in a sub-state semifinal last year. Two big question marks for the team this fall are: 1. Who will replace four-year mainstay and setter Chrissie Jeannin; and 2. Is Molly O'Hagan completely recovered from a nagging back injury?
A deep sophomore class and talented freshman group should help the team stay near the top of the Kaw Valley League as seniors Abby Eisman and Maggie Franiuk look to lead the Chieftains back to state (where THS finished third in 2007).
Out on the cross country trails, Andie Jeannin, Alex Hauk, Sarah Williams and Lauren Hall lead the way for the Tonganoxie girls. For the boys, it will be up to junior Joel Dunning and sophomores Patrick Rachford, Dalton Harrington and Caleb Himpel to step up and replace a solid group of seniors from last season.
The Tonganoxie boys soccer team finished last in the KVL in 2008. If the Chieftains want to turn things around this fall, seniors Mitch DeHoff, Tyler Woolworth, Keaton Schaffer, Preston Putthoff, Bret Koch and Andrew Bouza will have to lead the charge.