Chieftains excited to get season started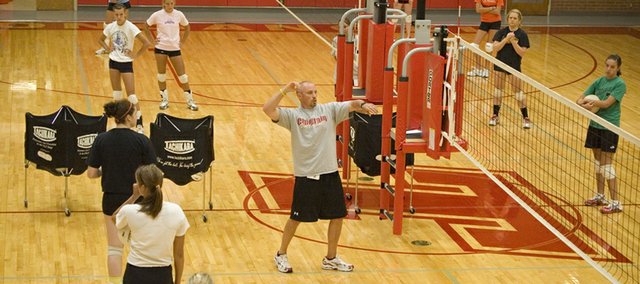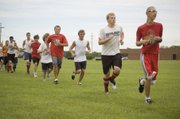 When fall sports practices got under way Monday at Tonganoxie High, the Chieftains were plenty excited — energy abounds the first few days as athletes anticipate the fast-approaching regular season and fight for playing time.
That enthusiasm was matched by their coaches, who can't wait to see what 2009 has in store for Tonganoxie.
Two-a-days were the norm for THS football Monday and Tuesday and that will continue the remainder of the week. Coach Mark Elston said practice really picks up on the fourth day, when players put on their pads and start banging for real.
"The new season brings that anticipation every year and the best part of the first week is Thursday's our first day of hitting," said Elston, entering his 10th year at Tonganoxie.
Players and coaches also look forward to the end of the week because the Chieftains scrimmage Saturday morning.
"There's a lot of build-up," Elston said.
Tonganoxie volleyball co-coach Brandon Parker said he enjoys the start of practice because that's when the Chieftains begin to earn the right to play.
"It's all a fresh start," Parker said, adding that it is interesting to see which players come in already in top shape. "We lay down our expectations and standards and then from there get into drill work because that first week we get an idea of who's going to be on which team."
Tonganoxie cross country coach Phil Williams said, like his cohorts, he was eager to get started and see which athletes came ready to perform.
"There's always the anticipation of success and the unknown factors of how the kids will respond," Williams said.
Fifth-year THS soccer coach Ken Lott said he looked forward to more leadership on this year's roster and was ready to see it in action on the field.
"It's always exciting getting started, seeing what kind of new players you have and how they fit into the mix," Lott said. "I think the kids are excited — especially the seniors — about getting back and having a good season this year."
At most early practices, THS coaches said a chunk of time focuses on the players' fitness levels and more headway is made the second and third weeks as varsity lineups become more clear.
Chieftains will be battling for roster spots in all four fall sports. One of the more interesting battles might be on the gridiron, specifically on the THS defense. Elston said he and his staff have only a handful of sure starters, with six to eight positions up for grabs.
"That's going to make for healthy competition," the coach said.