Weather dampens first day of fall practice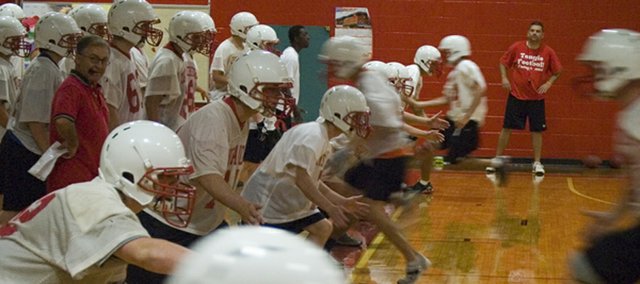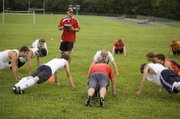 The fall sports season at Tonganoxie High was supposed to start with a bang, but not the kind that comes with lightning. Heavy rain and storms late Sunday night into Monday morning, though, knocked things a bit out of whack.
Traditionally, the new athletics year begins with THS cross country runners hitting the street for their "Midnight Madness Run." But rainstorms forced them inside to race through the school's hallways early Monday morning. It was kind of a bummer.
"They think running on the deserted streets at midnight is a lot of fun," Chieftains cross country coach Phil Williams said.
The forecast was the topic of discussion for Tonganoxie football players, too, late Sunday evening. THS senior defensive end Dane Gonser said he was talking with teammates on Facebook, hoping weather would clear up in time for their practice the next morning. But the Chieftains woke up to a soaked practice field and more rain, so they headed indoors to the gymnasium on the west side of campus — not exactly an ideal football practice locale.
"We're really excited to get going but we're off to a slow start," Gonser said after Tonganoxie's first round of two-a-days were forced inside. "When we get outside, we'll be 100 percent going all out."
In the confines of the old gym, there wasn't a lot of space. Players couldn't go full out and knock someone down. If a Chieftain was on the hardwood floor, it was probably for another reason — "It gets slick in there," Gonser said.
Luckily for the THS boys soccer team, the weather cleared up prior to their first practice Monday afternoon. Sure, the players (unlike some Chieftains) got to be outside, but they knew the first week of practice was going to be rough — regardless of setting.
Asked about the most exciting aspect of starting practice, THS senior captain Bret Koch said he might describe it differently after talking with assistant coach Brian Kroll, who organizes conditioning drills.
"I don't know about exciting," Koch said. "We got a text from Coach K (Kroll) and he called it 'Hell Week.'"
Still, Koch said he and fellow seniors Tyler Woolworth, Andrew Bouza, Mitch DeHoff, Keaton Schaffer, Preston Putthoff, Kenny Schultz and Matt Titterington were looking forward to playing for Coach K, who will be moving to Denver with his family after the season.
"We want to go out with a bang," Koch said.
Free of fitness fears or weather worries, the Chieftains volleyball squad began practice ready to compete. Junior Molly O'Hagan said she looked forward to the first week of work.
"We do have a lot of competitiveness this year because we have a lot of spots open," O'Hagan said. "No one is guaranteed a spot."
O'Hagan predicted each and every player, freshmen on up, would compete her hardest and soak in the coaching that comes with the season's first practice sessions.
"Now, the first couple of days we're going to be tested through hard-core drills and stuff," she said. "It's really going to separate out who's going to be on the (varsity) team."