Another county fair in the books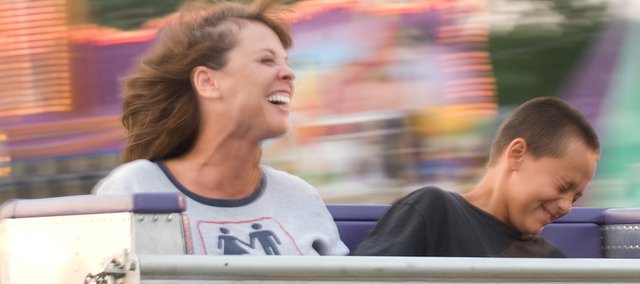 It was a typical hot and muggy week in August for the Leavenworth County Fair, but the weather was fairly cooperative. Though there was rainfall Saturday, it shut off in time for the demolition derby. And in actuality, the rain helped in preparing the demolition derby crash area, as workers normally water down the area in advance of a derby.
Auction time
Despite the slow economy, Mike Epler, agricultural agent for the Leavenworth County Extension office, was optimistic about Saturday's 4-H/FFA livestock auction results.
"The peaks are down, but the values aren't any lower than last year," Epler said about the results. "I don't think our averages are going to be much lower overall. I feel like the numbers were down a bit, but not drastically lower."
Epler didn't have the final figures on the auction, but he gave several examples showing the trend.
He said last year's high price for pigs was $900. This year it was $650. The same can be said for steer. The high last year was $3,400, but the high this year was $2,900.
One thing Epler was really happy about was how the weather held up during the week and he was glad the fair wasn't planned for this week.
"Everyday would have been a mud run," he said "People would have been getting stuck everywhere. Some might not have been able to get out of their houses."
Muddy running
Milton Rush and his son Jacob were playing an informal game Friday at the Stompers 4x4 Mud Run during the Leavenworth County Fair.
The father and son from Leavenworth would place their "bets" before each truck or jeep approached the starting line of the mudway.
Both would try to guess before each run whether the participant would sink or swim.
"It's fun to guess which ones are going to make it and which ones don't," Milton said.
Of course, ones they thought would make it to the end of the mud lane unscathed didn't sometimes, and others they thought had no chance performed quite well.
Jacob, who is 12, said the guessing game between he and his father was "kind of even."
Asked if they had a favorite vehicle, Milton said "we like 'em all, especially the Jeeps."
He then mentioned that he has a Toyota Tundra, but he likely would pick another truck to compete with if entered in a mud run.
"I wouldn't even think about entering a Toyota," Milton said. "It's not even near strong enough."
JD Peel, 14, Tonganoxie, attended the first mud run at the Leavenworth County Fair a year ago. He said this year's installment was better, as there were "lots of different trucks" this year.
The mud run, as well as Saturday's demolition derby, are JD's favorite events at the fair.
The mud run attracted several drivers locally, some from Tonganoxie, Easton, Lansing, Linwood and Eudora. Drivers also traveled from farther away, as one was from Independence, Mo., and another from El Dorado.
Pie-eating champ
A rookie was king of the pie-eating contest.
Charles Moore of Basehor won this year's contest Saturday in a close competition. Initially, it was ruled that Charles and Tonganoxie's Mike Weston tied for first.
But when the results were announced, the Basehor youth was named the champ and Weston placed second.
Charles said he didn't train for the pie-eating contest, but did win a cracker-eating contest at a recent 4-H camp.
For his efforts, he was awarded prize money in the amount of $1.
Charles said he was not, in fact, going to spend his winnings all in one place.
"Good luck," his mother, Cindy Moore, said.
Weston, meanwhile, had won a pie-eating contest at his work and noted that was a whole pie.
Saturday, the contestants each were required to eat a fourth of a pie.
Competition was intense and the pre-eating time had a bit of trash talk in the mix.
"Save one of those chocolate pies for my prize," said Jenni Ciszewski of Basehor. She won the contest during a previous year.
— For more from this year's Leavenworth County Fair, log on at tonganoxiemirror.com and see future print editions of The Mirror.