Bulldogs ready to take volleyball program to new heights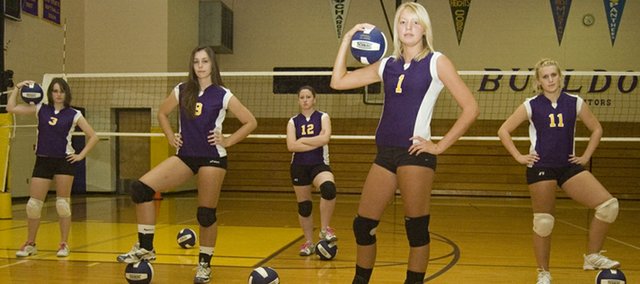 The McLouth High volleyball program has witnessed a positive trend the past few years and as the 2009 season commences, MHS expects that progression to spike.
Since the arrival of coach Erika Houk in 2007, the Bulldogs have increased their win total each season.
A 14-22 inaugural campaign followed by a 22-15 mark last year has McLouth thinking big in the coach's third season on the job.
The Bulldogs have a slew of players returning, including five seniors — Cassidy Bristol, Courtney Chilcoat, Alexa DePriest, Taylor Rush and Kylie Shufflebarger. Throw in five more with varsity experience — juniors Katy Perry, Jeri Holwick, Logan Terry and Jessie Troupe, and sophomore Terri Stewart — and it's easy to understand the team's optimistic outlook.
"I see it being a very, very successful year," Houk predicted.
The Bulldogs roster is dominated by seniors and juniors and because they have all been around the coach since her first day on the job, team chemistry is not an issue.
"They already know what I expect," Houk said.
When they were starting from scratch in Houk's first year, chemistry wasn't a strength. Co-captain Shufflebarger said players didn't always get along in the past but there is no more of that now.
"We all just have fun together," she said.
They even found a way to enjoy early morning conditioning sessions during the first week of practice.
"I think we're definitely close because this last week we've been doing two-a-days and we've all stuck together," Chilcoat said. "We've all fought and been up here at 6 o'clock in the morning working our butts off."
MHS players established the team's hard-working identity during the off-season as some played together in a Topeka summer league and Bristol, Chilcoat and Rush competed on the same club team.
"Playing together makes us stronger," Bristol said, adding that their time together makes the game come easier. "We know each other's voices."
That comfort level is clear on the floor. Houk said McLouth is starting '09 in mid-season form — "They're more competitive this year," she said.
A change was necessary to reach that competitive edge. Chilcoat said MHS didn't always bring the necessary intensity for the whole match last year.
"We had a habit of not maintaining through a game, so I think that's one of our big goals," she said.
Shufflebarger said the Bulldogs learned a lot from those old bad habits, notably that the outcome of a match should never be assumed.
"You have to keep pushing through," she said.
This year, McLouth's players aim to avert letdowns by remaining positive, an action they have established in practice.
"If we get down, we huddle up, we re-group, just talk about it and let it go," Shufflebarger said.
After winning more games than the program had seen in more than 20 years, McLouth's 2008 season ended at Pleasant Ridge in the first round of sub-state. This year, the Bulldogs don't just want to show better at sub-state, they want to win it and go to the Class 3A state tournament. With their depth, chemistry and experience, that goal seems within reach.
"I think we're going to be really good," Shufflebarger said.
The Bulldogs' season begins on Saturday, when they travel to Jeff West for a tournament.