Unpredictable season awaits
THS

runners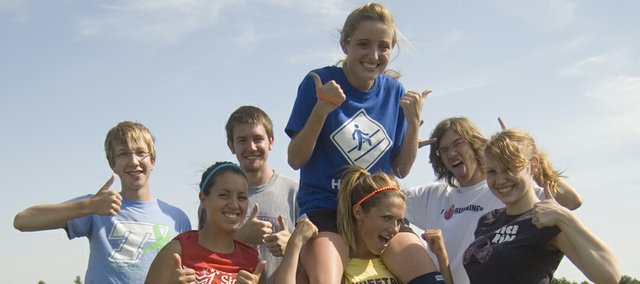 In his years of coaching the cross country team at Tonganoxie High, Phil Williams has seen just about everything.
But ask him about how the Chieftains will fare this season and the veteran coach is almost stumped.
THS has just one senior runner, Andie Jeannin, on its boys and girls rosters with any varsity experience.
"Yes, we are pretty young on both the boys and girls squads," Williams said. "For that reason I'm not sure what to expect team-wise, especially early in the season."
As the younger runners gain more experience, Williams thinks they should improve, which will be good for the team down the line. However, Williams said that is part of this season's unpredictability.
"Being young is good for the future," the coach said, "but leaves a pretty big unknown for the present."
Although senior experience is minimal, Tonganoxie does have plenty of runners with some cross-country mileage.
Junior Alex Hauk leads letter-winners among the girls. Sarah Williams and Cristina Rubio also have competed at the varsity level, as has Lindsey Cox.
Jeannin said having a "very young" team felt much different than the past few years.
"It's weird," the senior said. "Just me and Alex are the only ones who kind of have a clue what we're doing."
Now Jeannin is adapting to her new leadership role, which has become even more difficult with a nagging right knee injury. It first bothered her during track this past spring. When it starts feeling sore at practice, Jeannin has to scale things back and become more of a vocal leader instead of going "full-out."
But Jeannin hasn't let the hurt affect her enthusiasm for her senior season. She has been impressed with the number of girls running well at pre-season practices.
"I'm excited because before we had ideas of people (who would perform well) but then when you go out there, there's a big group — at least like 10 girls — who were pushing it," she said.
Jeannin said senior Shelby Maxon, who is running cross country for the first time, has kept up with the team's leaders at times.
Underclassmen lead boys
The THS boys boast a youthful roster, too, but a few of them raced for the varsity team last year. Sophomores Caleb Himpel, Dalton Harrington and Patrick Rachford and junior Joel Dunning gained much experience in 2008. Keith Slater and Justin Soetaert also saw limited action.
Senior Cooper Gish, who is entering his fourth year in the THS program, said it's nice to have young runners on the team, even if they have the upper hand on the seniors.
"It's a humbling experience to have younger people than you who are faster than you," Gish said, adding that, as a senior, he would like to be one of the team's top competitors. "It's both a blessing and a curse at the same time."
With three years of junior varsity behind him, Gish hopes he can reach a new level this season.
"It's senior year, so I've been trying to kick it up a notch, potentially get on varsity," he said.
Will that happen? It's one of many questions that will be answered for THS squads this year.
"I expect both groups to be competitive," said Williams, "but we'll see about how good they really are."
The Tonganoxie cross country season begins next week when the Chieftains have their season opener starting at 4 p.m. Thursday, Sept. 3. The Chieftains play host to a dual with Lansing that day.