Seniors shy away from Web networking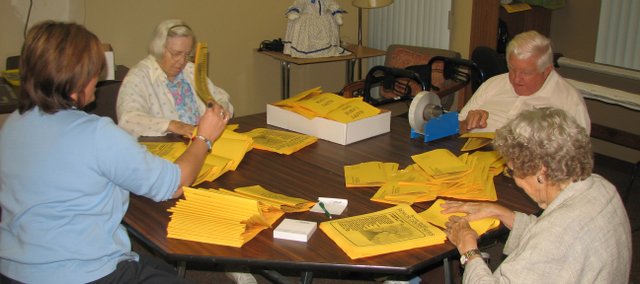 In recent years, social networking Web sites such as Facebook, MySpace and Twitter have exploded into the online arena, drawing users from a vast demographic.
In this area, though, one demographic groups seems to keep from jumping on the Internet communication bandwagon: senior citizens.
Seniors' reasons for steering clear of such sites range from simply not having access to the Internet to feeling completely frustrated by modern computer use.
Patty Willmeth, Leavenworth Council on Aging social services and education worker, said she thought many seniors could be under the impression social networking sites were not designed with people their age in mind.
"They might think things like that are just for young people," Willmeth said of why more seniors weren't communicating online.
Willmeth also said it was possible senior citizens didn't need to use computers to talk to people in their social circles.
"Maybe they're in touch with everyone they want to be in touch with, and they just don't need the Internet for that purpose," she said.
Another factor that could make social networking unattractive to seniors is its sheer involvement with computers and the Internet themselves, says Nancy Johnson, Bonner Springs Senior Center director.
"You either love technology, or you want nothing to do with it," Johnson said. "The Internet is like a foreign language to most seniors. It's intimidating and expensive."
Senior center visitor Ed Mellott said he was opposed to social networking for the reason Johnson cited.
"Computers weren't invented when we were young and in school," Mellott said. "Then it became something really scientific, and since it expanded into personal computers, it's just run hog wild. I got tired of having this ad and that ad come up every time I tried to search something, and I just turned the computer off."
Some like Ken Stewart aren't against the idea of online networking, but they don't have the Internet access to even create a personal page.
"I might use something like that, but we don't have Internet," Ken Stewart said.
Ken's wife, Edna Stewart, doesn't think she would use such sites even if she had the opportunity.
"I'll pass," Edna Stewart said. "I have plenty of kids on (facebook), and my daughter has two computers in her house. I don't need all that."
Visitors Monday at the Bonner Springs Senior Center were helping Johnson fold and tape the center's monthly newsletter, and Johnson said this newsletter was like facebook for older generations. Similar to Willmeth, Johnson maintains seniors favor communication through letters, cards and phone calls above wall posts and tweets.
"Networking for this generation is more personal," Johnson said. "They would rather pick up the phone or call someone or send them a letter or drop by than get on the computer. Communication for them, keeping in touch for them has maintained that personal approach."