Renaissance Festival to provide another year of enchantment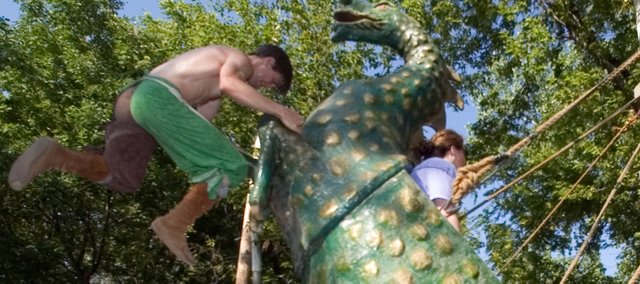 Once again the town of Canterbury is coming to life in Bonner Springs, as the Renaissance Festival's performers, vendors and entertainment work to create a magical 16th century world.
The Renaissance Festival, located just north of Interstate 70 and Kansas Highway 7 in Bonner Springs, will open its doors Saturday, Sept. 5, for another round of jousting, turkey legs and fun that has become tradition in the area for three decades.
"We're very excited," Carrie Shoptaw, general manager of the festival, said. "The preparations are going great. We're having a wonderful time."
Preparations include getting actors ready to debut this season's new running performance that will take place in short scenes throughout each day at different areas of the park.
The "Battle of the Bards" will pair William Shakespeare up against Christopher Marlowe as the two writers battle for the top spot using their wit. Throughout the day, the two writers will each write a show on the streets of Canterbury that will then compete against their rival's own work at the end of the day.
What happens when both plays come together, Shoptaw said, is a hilarious twist with many secrets being revealed.
Shoptaw said in addition to a new, "very handsome" King Edward, a new area of the festival grounds has been added for those who dare to conquer the high seas.
"The Tradewinds Pirate Adventure Cove is dedicated to pirates every weekend," Shoptaw said. "Activities will be different every weekend with special events, a giant trampoline, a new state and the Groggy Starfish Pub."
While Shoptaw said all the old favorites such as jousting four times a day, the queen's tea time, and 90,000 pounds of turkey legs would be in place, she expects the pirate cove to be a lot of fun for visitors.
Visitors should also take note of the festival grounds this year. Shoptaw said the festival sent an invite to area nurseries and gardeners about helping spruce up the large grounds. She said the response was overwhelming.
"It's really cool to be getting help from these gardeners," she said. "We had some amazing responses from big name companies. The grounds are going to be pretty impressive and honestly probably the best they've ever looked."
Many special events throughout the day call for reservations. Activities such as the Feast of Fooles or a romantic lunch on the deck of the Pirates Pub overlooking the wharf area are available for patrons who want to dive even deeper into the renaissance world.
The festival will be open from 10 a.m. to 7 p.m. weekends through Oct. 18 plus Labor Day and Columbus day. For more details, go to kcrenfest.com, or call (913) 721-2110.