County Road 1 expected to open later in September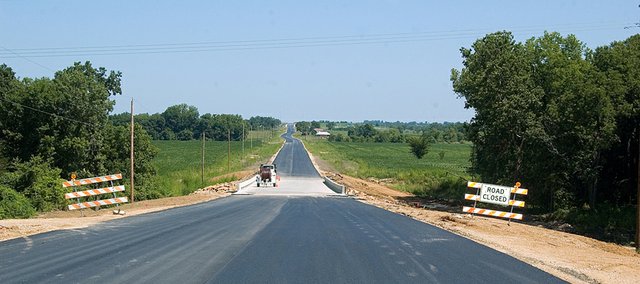 Recent rain is delaying the ahead-of-schedule reopening of a rebuilt Leavenworth County Road 1.
Beginning Monday, crews plan to start placing the top layer of asphalt on the 5.62-mile stretch of road. The project runs from just south of Tonganoxie, at the intersection with U.S. Highway 24-40, to the intersection with Kansas Highway 32.
Officials had hoped to reopen the road in early September, but such optimism now has given way to reality.
"We're probably looking at the middle to end of the month," said Rex Fleming, project engineer for the Kansas Turnpike Authority, which is overseeing the project and related construction of a new turnpike interchange. "We've been knocked out over a week with rain."
Work on the so-called "finish" layer of concrete will start at the north end of the project and work its way south, Fleming said. Crews also need to move dirt alongside the shoulders to match up with the fresh pavement, a portion of the project especially hindered by the wet weather.
"We've got a lot of mud," he said.
The road section's new features include wider lanes, paved shoulders and a more level profile, so that drivers will be able to see better by driving on lower hills and through shallower dips. The road also crosses the turnpike on a new bridge.
And despite the latest delay, the project remains ahead of schedule.
Work on both the road and the interchange long have carried a "by-the-end-of-the-year" deadline for completion. But by the beginning of August, Fleming had expected the road to reopen in early September, given timely and effective work by contractors.
That was before the rain hit.
The new Tonganoxie-Eudora interchange, meanwhile, remains on track to open by the end of the year, said Lisa Callahan, a turnpike spokeswoman. While actual construction could be finished by Thanksgiving, work likely will remain on the interchange's toll booths, which will be fully automated.
The combined $18 million project — rebuilding the road and adding the interchange — is being financed jointly by the turnpike and the county, Fleming said.
The new interchange will be known as Exit 212, and will be the first in Leavenworth County.