It could have been worse
Chieftains avoid loss in opener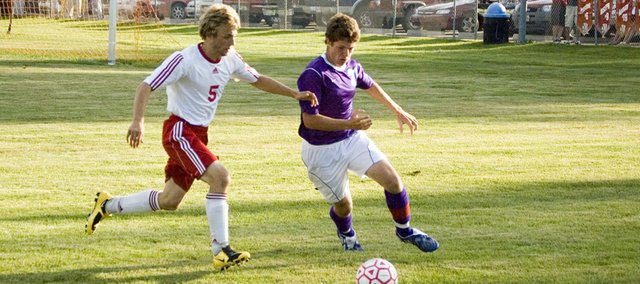 A tie rarely brings satisfaction.
But given the program's past, the Tonganoxie High boys soccer team was content with a 1-1 draw against Baldwin in its season opener on Friday at Chieftain Park.
Each of the previous three years, Chieftains senior Tyler Woolworth had seen his team lose its first handful of games to start the season. A tie was the most promising beginning to a THS campaign Woolworth had witnessed.
"This is the best game we've had in the past three years," the forward said.
Tonganoxie snagged positive vibes and momentum early in the match, when senior forward Kenny Schultz put the Chieftains up, 1-0, with a goal in the 11th minute on a cross from fellow senior Bret Koch.
"Bret just had a beautiful pass," Schultz said. "I was just there and it hit my foot right and fired into the back of the net. It felt good."
That feeling swept through the THS roster as the Chieftains, who had seen or been a part of a lot of Tonganoxie losses the past few years, finally had something positive to rally around.
"We were pumped up but we didn't get all cocky," Woolworth said.
Schultz said, other than avoiding a loss, the team's attitude might be the biggest positive he will take away from the tie, and he expects even better things to come.
"Our team's awesome," the senior said. "We don't have players who do it themselves. We had amazing ball-work out there — we were all trying to get a touch in and help wherever we can."
THS, which led Baldwin for 68 minutes, was in position to win its season opener. But with 60 seconds to go in the second half, junior Bulldogs defender Chris Schrapel scored the tying goal from the left side, roughly 20 yards out, to beat Chieftains goalkeeper Mitch DeHoff by mere inches.
"That one goal, he just made a perfect shot, spot on," Schultz said.
Baldwin's late score could have deflated THS. But Tonganoxie coach Ken Lott said the players refused to let that happen.
"The team, themselves, they believe in each other," Lott said. "They want it more than they've ever wanted it."
It sure looked that way on the pitch. DeHoff was stellar in goal. Defenders Keaton Schaffer and Jake Willis routinely thwarted would-be attacks. Woolworth, Schaffer, Tyler Bartholomew and Joseph Parrino all got good looks on scoring attempts.
Lott said that was encouraging.
"Most of all, I think they know what it feels like to lose. And they don't want that anymore," the coach said.
That sign of change made a tie feel pretty good.
"We made it straight that we're here to play," Woolworth said, "and we did."
Tonganoxie will look for its first victory on Tuesday, when the Chieftains play host to Bonner Springs at 6 p.m.