New
THS

girls lineup ready to be tested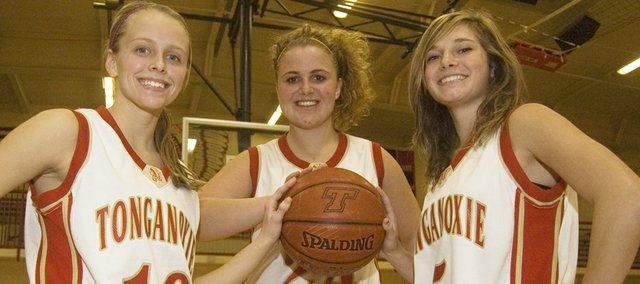 At Tonganoxie High girls basketball practice, coach Randy Kraft roams the floor, checking in on the post players at one end of the court and the guards on the other end.
As he scans the hardwood, he sees a few familiar commodities, but for the most part, the players running through drills are untested.
In Kraft's seven seasons as Chieftains coach, the program has enjoyed a lot of success — 127 wins, four Kaw Valley League titles and two trips to state.
To replicate that level of achievement this year, Tonganoxie will need production inside and outside — but there isn't a wealth of experience in either area.
Just two players — guard Andie Jeannin and forward Danielle Miller — return from last year's starting lineup. Two others — guards Lauren Hall and Haley Smith — played significant minutes during the 2008-09 season.
That leaves a lot of new and less experienced players to fill what Kraft hopes will be an eight- or nine-player rotation.
"We've got a lot of new players, so there's a learning curve right now," Kraft said. "You throw that many new faces out there, I don't care what your skill level is, there's going to be hiccups."
New faces in the THS rotation this season will include senior forward Lindsey Fatherley, junior center Tayler Miles, sophomore post Tavia Brown, freshman Jenny Whitledge, sophomore guards Amanda Holroyd and Megan Hummelgaard and freshman Hannah Kemp.
Kraft has confidence in his returning varsity players, but who will play what role among newcomers remains to be seen.
"With all the new players we're adding, we're really up in the air as far as those other four or five spots," Kraft said.
There is some silver lining to that scenario, however. Inexperienced or not, Tonganoxie is in position to have many more options than last season, when often just six or seven Chieftains played. Kraft said he thinks this team has more players capable of contributing quality minutes.
THS was 15-7 last season and got most of its production from Chrissie Jeannin and Roni Grizzle, both of whom have graduated.
If the Chieftains want to continue to win at that rate, Jeannin, the team's leading returning scorer at eight points a game, said the new lineup needs to develop confidence.
"We can't doubt ourselves," Jeannin said.
Tonganoxie is off to a good start in that area, Hall said, because a number of players are already vocal, which is different from last season, when Grizzle and Jeannin handled the bulk of the leadership.
"We were kind of in the shadows," Hall said, "you know, set up and shoot."
According to Hall, the Chieftains also have a lot of athleticism, personality and confidence — even from the younger players.
"When I was a freshman, I was kind of scared to, but some of the people on our team, they're not afraid to score," Hall said.
Inside, Fatherley is trying to eradicate any fear from her fellow post players. The senior is pushing Miller, Miles and Brown the best she can, so they play strong inside and help THS have some balance.
But Tonganoxie needs something else out of its bigs: speed.
"Obviously, our focus is to be the quickest up and down the court," Fatherley said. "Our height isn't massive."
Hall said the posts, especially Brown, have shown speed in the open floor — "We're definitely a lot quicker," she said.
Of course, Kraft will be pleased if that's the case, but there is another area where the coach demands the players utilize their quickness.
"We're gonna have to win games with defense," he said.
Tonganoxie's ability to defend — inside and outside — could determine whether this season will be another winning campaign.
"If we don't play defense," Jeannin said, "we're not going to win — anything."
Tonganoxie opens its season at 5 p.m. Monday at the Paola Invitational against Highland Park.