Tonganoxie boys prepared, confident entering season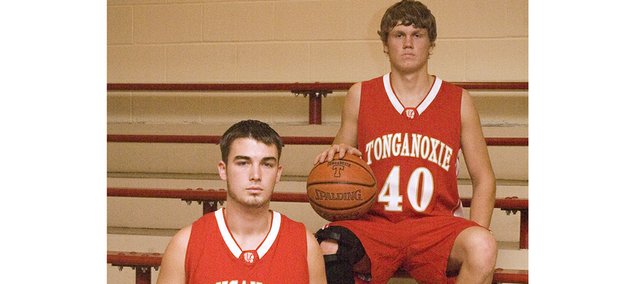 One might say the Tonganoxie High boys basketball team is ahead of schedule.
As the Chieftains enter their second season under coach Shawn Phillips, there are fewer things to muddle the squad's preseason progress.
A year ago, everything was new. Not this time around. Now familiarity might be the team's biggest asset.
"Right now we're two weeks in and we already have more in than we had at any point last year," Phillips said at practice this past week.
The development, the coach added, is a result of the team's basketball IQ.
"Our kids are pretty smart, too," Phillips said, "so they can handle a lot of knowledge and be able to handle it pretty well."
Still, all that doesn't mean 2009-10 will be a utopian season for THS.
The Chieftains return just four experienced varsity players form last season's 14-9 team: starting forward and leading scorer Keaton Schaffer, starting point guard Jeremy Carlisle, senior forward Justin Jacobs and junior guard Dylan Scates.
Tonganoxie lost three of last year's starters to graduation, most notably center Austin Smith, who often dominated the glass and averaged 9.2 rebounds per game.
So how big of a concern is rebounding?
"It's an area we know we need to address," Phillips said. "We've had some guys step forward in that regard. Justin Jacobs has started to rebound the ball for us in the post and Dylan Scates has really shown the ability to go get the ball."
Although Schaffer and Carlisle are the team's top returning rebounders, Jacobs admitted board responsibility rests primarily on the shoulders of he and sophomore pivot Dane Erickson.
"I think we have a lot of ability to get a lot of rebounds," Jacobs said.
Erickson certainly has the length to be a factor inside after playing sparingly in just two contests last season. Phillips said the 6-foot-4 big man made the most of his offseason.
"Dane's very fundamentally sound for his age," Phillips said, noting Erickson's ability to finish inside. "He may be our most improved player since last year."
While Erickson could be the biggest addition to the Tonganoxie lineup, there are others competing for playing time. Junior swingman Austin Vickers joins the team as a transfer, while junior Keith Slater and sophomores Colby Yates and Dylan Jacobs step up to varsity with a year of experience in Phillips' program.
Justin Jacobs expects the new guys to adjust and be a factor.
"I think they just have to get some varsity time and get those nerves out," the 6-foot-3 forward said.
Another question mark for Tonganoxie is the team's long-range shooting ability. Last year, the Chieftains went 59-for-229 from three-point land — converting just 25.8 percent.
Schaffer, who led the team with 21 threes a year ago, said Carlisle, Justin Jacobs, Scates and Yates can all knock down long jumpers. But after shooting 24 percent from behind the arc as a junior, Schaffer said he needs to be more efficient.
"I think I need to take better shot selection," said Schaffer, who averaged 16.4 points last year. "I can get to the rim, and I need to turn down some three-pointers."
That's what Phillips likes to hear, and if the Chieftains have their way, they'll get most of their points on transition layups anyway. THS ran relentlessly in its summer league with hopes of doing the same when the games count this winter.
"Most of our points are gonna come from transition," Schaffer predicted. "It's just like last year: if we can't run on a team, we'll be in trouble."
When trouble rears its head, the Chieftains will have to produce in the half court. Their coach said they'll be prepared.
"I think we can play several different ways," Phillips said. "I think we can grind it out, and I think we can play in a track meet."
The Chieftains seem to have the solutions to all the questions that face them entering this season. But Phillips said he constantly reminds his team that any success Tonganoxie achieves will have to be earned.
"It's definitely not something that's gonna be given to us," he said.
Tonganoxie's season begins at 5 p.m. Monday at the Eudora Invitational, where THS will play East (Kansas City, Mo.).