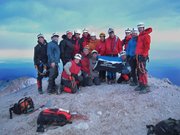 Grant Ritchey continues to team up his vocation with his hobby.
The Tonganoxie dentist is an avid climber.
He has participated in Climb for a Cause, an annual event in which he's taken part four times since 2001. Most recently, in September, he climbed Half Dome at Yosemite National Park, Calif. Elevation is about 8,800 feet.
"We went up and back the same day," Ritchey said. "It's approximately 20 miles round trip. Lots of hiking and the very end is pretty strenuous climbing."
Though the number of people who participate varies, Ritchey said normally 6-10 dentists go on the hike annually. Other personnel participate, bringing the total to about 15 each year.
Ritchey said each dentist raises money however they wish, through their own donation or fundraisers. Each dentist must raise $2,500 to take part in Climb for a Cause.
"That's the ante," Ritchey said. "We are welcome to donate more."
Dental students also are encouraged to attend and have lower fundraising requirements, Ritchey said.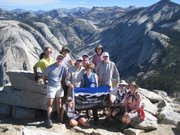 The money funds various dental clinics overseas, most recently remote villages that otherwise do not have access to any dental care in Guatemala, Cambodia and Vietnam.
Ritchey participates in the hikes when his schedule allows.
And now he'll be getting more involved with the organization that was founded in 1998.
Ritchey recently was named to the Dentists' Climb for a Cause board.
"The board, consisting of seven members, needed a practicing dentist with a demonstrated commitment to and support of the foundation, and Grant was at the top of our list," said Daniel A. "Danny" Bobrow, DCFAC executive director.
Longtime climber
The 49-year-old Ritchey, who grew up in Norman, Okla., has climbed off and on for 35 years.
As a youth, he went backpacking, skiing and mountain climbing in New Mexico and Colorado.
"Ten years ago I picked it back up pretty seriously," Ritchey said.
He also participated in survival training and rock climbing on some of those trips.
When it comes to training for his Climb for a Cause trips, Kansas doesn't always provide the most ideal terrain.
"Lot of hours on the StairMaster and walking with a pack," Ritchey said.
"You can't train for altitude here."
The trips normally take place Labor Day weekend and in some cases that means hiking in snow, which is hard to train for during the summer months in Kansas.
"You train as best you can and realize it's going to be a long day," Ritchey said.
Asked whether he trains in the winter, Ritchey said he normally does not.
"Not really. I probably should but not enough to really get any good training," Ritchey said. "All it does is make me cold and unhappy. And whiny."
Climbs for charity
Climbs for a Cause has taken Ritchey on excursions to Mount Adams in Washington state, Mount Charleston in Nevada, Mount Hood in Oregon and Half Dome in California.
Ritchey said he's happy to raise money while also enjoying his longtime hobby.
"I think we all have activities we enjoy doing," Ritchey said. "We all have our passion and mine is the outdoors, climbing, mountains.
"When I saw that there was actually an organization that did good things while climbing, I knew I couldn't pass up that opportunity."
Now that he's a member of the non-profit organization's board, Ritchey hopes to travel to some of the foreign places where the group is offering its money and services. Ritchey plans to offer his dental services on those trips as well.
In addition to helping people overseas, Ritchey is looking forward to that next Climb for Charity — next September in Oregon, where hiking, rafting or kayaking and rock climbing are on the itinerary.