Police chief stepping down after 10 years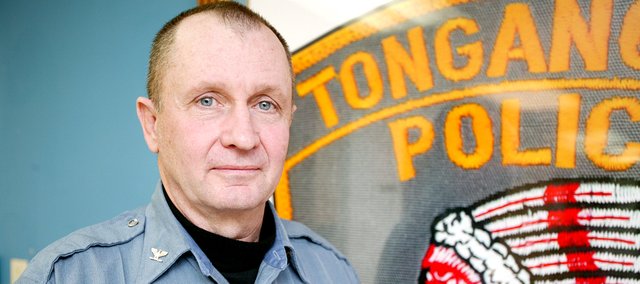 After nearly 40 years in law enforcement, Tonganoxie Police Chief Kenny Carpenter is hanging up his badge.
At this past week's city council meeting, Carpenter presented the council his letter of resignation.
"With much reluctance I have decided to retire," Carpenter wrote in his letter of resignation presented to the council Nov. 23. "I enjoy serving in my current position as police chief for the Tonganoxie Police Department. However, I am at a point in my life where I would like to have more free time to enjoy life."
Carpenter, who took over as the chief in early 2000, will officially retire on April 1, 2010.
"Congratulations and thank you," Council member Jason Ward said during the meeting.
"You have done the city of Tonganoxie a great service and we really appreciate it."
For now the Tonganoxie City Council and staff will review the pay scale of the police chief and will also overview the job description before they advertise the position.

The council will also discuss looking into creating a search committee to find a new police chief.
Although he won't be chief anymore, Carpenter stated in his letter he doesn't want to completely disappear.
Carpenter wrote in his letter that he would still be interested in helping the department part-time after April 1.
"You all have been very good to me and I've enjoyed my time here," Carpenter said.