Bulldogs win by 30 in opener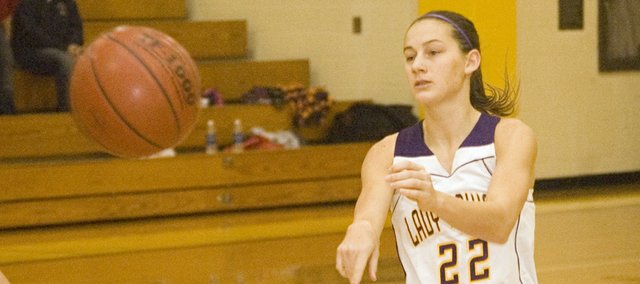 Senior guard Missy Rome dominated as the McLouth High girls basketball team cruised to a 59-29 home victory against Doniphan West in the team's season opener on Thursday night.
The wiry strong Rome had a robust stat line: 28 points, seven assists, five rebounds and three steals.
The Bulldogs got off to a 7-0 lead early thanks to their senior leader.
First, Rome buried a three-pointer (one of her three treys on the night). Then she picked off a Mustangs pass and fed Kylie Shufflebarger for a bucket. The early spurt was capped by a Rome lay-in.
MHS (1-0) got 10 of its 14 first-quarter points from Rome but scoring diversity increased in the later quarters. Morgan Drinnon, Terri Stewart and Logan Terry got in the scoring column with Rome in the second quarter.
In the third, Rome only scored seven of the team's 21 points. Shufflebarger cashed four free throws, Drinnon hit two baskets, Stewart got a bucket and Jessie Troupe converted a pair of field goals.
With McLouth up 30 points in the fourth quarter, a running clock limited MHS scoring. Stewart and Terry each scored a basket as the Bulldogs won easily.
Shufflebarger led the team with seven steals.
Although Cassidy Bristol didn't score, she grabbed five rebounds to tie Rome for the team high.
Things probably won't come so easy for McLouth on Friday night, when the Bulldogs travel to St. Marys to take on the defending Class 2A state champs at 6 p.m.
Score by quarters
DWHS 8 12 6 3 — 29
MHS 14 20 21 4 — 59
McLouth scoring
Missy Rome 11-14 3-3 28, Cassidy Bristol 0-0 0-5 0, Kylie Shufflebarger 2-4 4-4 8, Morgan Drinnon 2-7 1-2 5, Terri Stewart 5-7 0-1 10, Logan Terry 2-3 0-0 4, Jessie Troupe 2-2 0-0 4, Taylor Pope 0-1 0-0 0, Katy Perry 0-1 0-0 0.