Bulldogs come out firing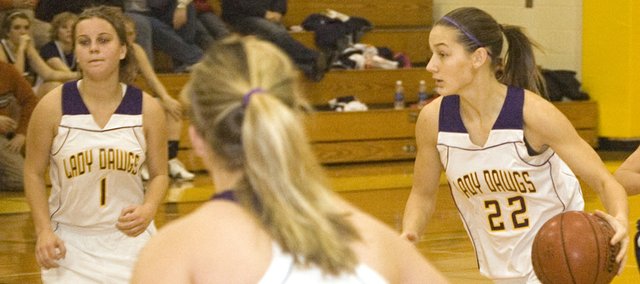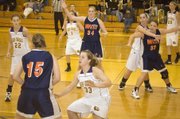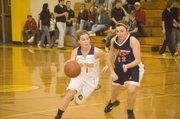 The McLouth High girls basketball team couldn't wait to get its season started.
At practice the day before Thursday's season opener, the Bulldogs could barely concentrate there was so much anticipation.
Fortunately for MHS, that eagerness translated to an easy home victory as McLouth rolled, 59-29, in its season debut against Doniphan West.
"We were so ready for a game, we were all so hyped up that we just let it all out," said senior guard Missy Rome, who led MHS with 28 points. "We came out with so much energy because it was our first game."
The energy showed from the opening tip as McLouth opened on a 7-0 run.
Coach Bob Good was glad to see quick scoring bursts such as that one throughout the contest.
"I just wanted us to play good. I don't know if I expected us to put a spurt on," Good said. "We've got that potential to be really explosive."
The first-year MHS coach said the team needs to make those sort of runs consistently.
"If we can do that," he said, "we're probably gonna be pretty successful."
The team's success also will rely a lot on Rome. Although others contributed — Terri Stewart scored 10 points, Kylie Shufflebarger had eight, Morgan Drinnon finished with five and Logan Terry and Jessie Troupe had four apiece — Rome went 11-for-14 from the floor, 3-for-3 at the foul line and had seven assists, five rebounds and three steals.
Although Rome was dominant, her coach let her know she was capable of even more.
"I think she should've shot more," Good said. "She's kind of unselfish."
Rome listened when Good asked her to be more assertive on offense.
"I kind of just changed my playing style and, I guess, helped the team," Rome said.
The coach assured her he wasn't going to bench her for taking open shots and that gave Rome confidence as she hit three of five three-pointers.
But that didn't stop Rome from keeping others involved. She had five second-half assists in limited playing time. Rome twice grabbed a defensive rebound, scanned the floor while bringing up the ball and hit a teammate with a perfect pass for an open layup.
Rome said she could usually count on Stewart to be open in transition.
"We always like the fast-breaks and Terri's our little cherry-picker," Rome said with a laugh.
The sophomore guard, Rome said, is a key part of McLouth's attack.
"She has so much energy," Rome said of Stewart.
The biggest problem MHS encountered in the opener was at the free-throw line, where the Bulldogs went 3-for-10 in the first half before hitting 5-of-5 in the second.
"That's something we really need to get down," Good said.
After shooting just 54 percent at the line last season, Rome knows McLouth will need those easy points in close games.
"Eventually it's going to catch up to us and we've got to find a way to fix it," she said, "otherwise it's gonna hurt us in the end."