THS

boys cruise in season opener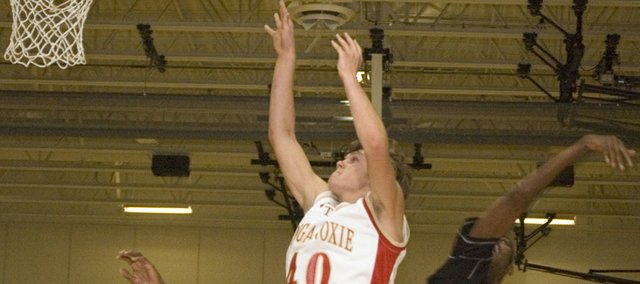 Eudora — One might be able to accuse Justin Jacobs of padding his stats, but it would be hard to knock the Tonganoxie High senior's hustle.
Jacobs' hard work inside led to a double-double for him and a 61-44 victory for the THS boys basketball team against K.C. East (Mo.) in the opening round of the Cardinal Invitational in Eudora Monday evening.
With the game already in the balance — the Chieftains were up 16 points with 18 second left — Jacobs missed the front end of a one-and-one at the free-throw line.
Aggravated, he dove to secure the offensive rebound, dribbled to the hoop and drew another foul to put the Bears in the double bonus.
The energetic forward was all smiles when he went back to the charity stripe with 13 ticks left and converted one of his two shots.
"I struggled at the line, going 2-for-7, but I thought if I dove for that and got some hustle points I could maybe add to my stat total and help out the team a little more," Jacobs said.
Inspired to secure a sweet stat line, Jacobs succeeded, finishing with 16 points, 13 rebounds (both team-highs) and four assists.
Jacobs was just one of four Chieftains to score in double figures in the season opener. THS senior forward Keaton Schaffer scored 15, sophomore center Dane Erickson had 13 points in his varsity debut and junior guard Dylan Scates added 11 points.
Tonganoxie (1-0) excelled at sharing the rock against East (1-2), racking up 19 assists on 24 baskets.
Schaffer led the team with eight assists and junior point guard Jeremy Carlisle passed out five, despite sitting out the entire third quarter after picking up a technical foul late in the first half.
Scates said finding the open man has become a habit for THS.
"Just in practice, sharing the ball a lot more and trying to find the best shot possible — it's really helped us," Scates said. "We've got a lot more patient on offense."
Tonganoxie coach Shawn Phillips said he wants his team to not only be patient, but also get the ball to the rim, which the Chieftains did in the second half, scoring 22 points inside.
"We got the ball into the paint quite a bit more in the second half than we did in the first," Phillips said, "so we were excited that we did that."
The coach was also enthusiastic about Tonganoxie's defense in the season opener. Although Phillips was disappointed that East scored 18 points in the second quarter, the Chieftains redeemed themselves in the second half, holding the Bears to 11 points in the third quarter and six in the fourth.
"You should win a lot if you only give up 17 in a half," Phillips said.
The biggest negative Phillips and his players focused on after the victory was careless turnovers — particularly in the first half, when THS gave the basketball away 15 times.
"We've got a little touch-up work to do," Jacobs said, "but once we get rid of a few of those turnovers and bad shot selection, stuff like that, then we can be a very good team."
Tonganoxie plays either Eudora or Bishop Ward at 6:45 p.m. Tuesday in a Cardinal Invitational semifinal.
Score by quarters
East 9 18 11 6 — 44
THS 18 12 16 15 — 61
Tonganoxie scoring
Dane Erickson 6-13 1-2 13, Dylan Scates 2-6 5-6 11, Keaton Schaffer 6-14 3-6 15, Jeremy Carlisle 1-6 0-2 2, Justin Jacobs 7-12 2-7 16, Colby Yates 1-3 0-0 2, Austin Vickers 1-3 0-0 2, Keith Slater 0-1 0-0 0.