Health department sets date for next
H1N1

clinic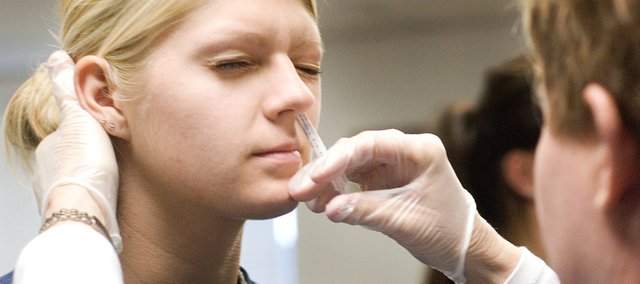 The Leavenworth County Health Department will have a vaccination clinic for the H1N1 virus in southern Leavenworth County for all county residents under 65 years old.
The health department will conduct the H1N1 flu clinic from 2 p.m. to 7 p.m. Dec. 14, at the Basehor United Methodist Church, 18660 158th St., Bonner Springs. The clinic will run until the end of the scheduled time, or until vaccine supplies are exhausted.
There will be no cost to receive the vaccination at this clinic and this clinic is only open to residents of Leavenworth County.
Pregnant women and children 6 months to 2 years old and people over the age of 49 are not eligible for the nasal spray vaccine and will receive an injectable dose. All others will receive the nasal spray vaccine.
Children 6 months through 9 years old will need to receive two doses of vaccine at least 28 days apart. Officials said it was not necessary to have the second dose administered at exactly 28 days, but within a reasonable timeframe thereafter.