Turnpike hopes to have Leavenworth County interchange open by month's end
Automated turnpike: New exit gets first
ATM

-like toll booths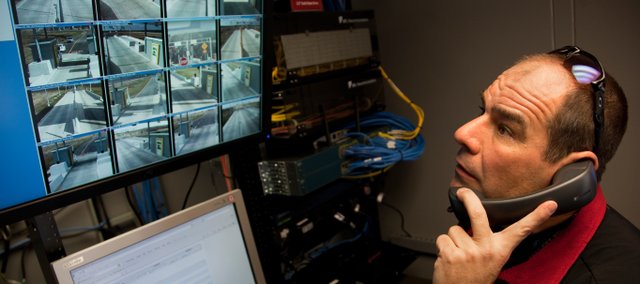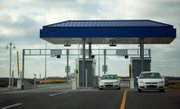 The Kansas Turnpike plans to open its new multimillion-dollar Tonganoxie/Eudora interchange east of Lawrence in a matter of weeks, once its new automated payment machines can reliably count loose change.
The machines — which cost $110,000 each — await new parts to address a glitch in their coin-processing systems, among only a handful of barriers waiting to be lifted before drivers get another option for entering and exiting the 236-mile pay-to-use interstate highway.
"We're in the final testing, so I would say we're a few weeks away," said Marty Wiltse, the turnpike's chief information officer, during a demonstration at the site Thursday. "Whether we want to open it the week of Christmas, or open it between Christmas and New Year's, it's hard to say."
The actual ramps, tollbooths and signs have been in place for weeks at the turnpike's intersection with Leavenworth County Road 1. The road itself recently reopened to through traffic, after being closed for its own reconstruction.
Wiltse said that the new interchange would continue to use the turnpike's existing K-TAG system, to allow drivers to pass through the interchange without stopping. Sensors will read when a vehicle enters the turnpike, then charge the appropriate amount to a customer's account once it leaves.
But the Tonganoxie/Eudora interchange will be the first on the turnpike to use Automated Toll Payment Machines, or ATPMs. Drivers who don't have K-TAG will be steered toward these machines, where they will pay using a credit card or cash — either bills or coins.
No humans will be on duty, other than a team of collectors connected to the interchange via video.
"It's like using an ATM at a bank," Wiltse said.
Barbara Friedman, a senior project manager for HNTB, led design on the interchange and said it would be easy for drivers to understand — once they get used to the idea of using the machines.
"It'll get people on their way quicker," she said.
The Kansas Turnpike Authority intends to install such machines at a dozen other interchanges next year. Among them will be at the Lecompton interchange, at the western edge of Lawrence, and the soon-to-be-rebuilt East Lawrence interchange which cuts through the northern edge of North Lawrence.
Also slated: an ATPM at the turnpike's East Topeka exit, at the "small plaza" where drivers exit onto the Oakland Expressway, Wiltse said.
The timing and scheduling for such machines will depend on their locations and traffic loads, he said.
Without the machines, he said, the turnpike would have needed to hire eight to 10 new collectors to keep the new interchange running. With the installation of machines, the turnpike anticipates reducing its personnel roster next year through attrition, not layoffs.