Young Chieftain wrestlers get mat intro at
KVL

duals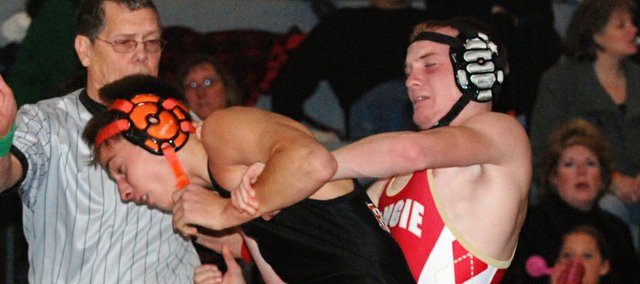 Photo Gallery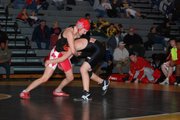 THS wrestling 6th at KVL duals
Tonganoxie High's wrestling team made its season debut on Saturday at the Kaw Valley League duals in Bonner Springs. The Chieftains finished in sixth place.
The Tonganoxie High wrestling team started a new season on Saturday, and for most of the Chieftains it was a whole new experience.
Seven of the 13 wrestlers who took the mat for THS at the Kaw Valley League dual tournament in Bonner Springs made their Tonganoxie varsity debuts.
"A lot of our kids, it was their first time out in a varsity match," coach Jeremy Goebel said, indicating the newcomers will learn a lot in the upcoming weeks. "Some of the little things will come with reps throughout the season."
Tonganoxie finished sixth at the event, winning duals against Piper and Bonner Springs, but losing to Perry-Lecompton, Mill Valley and Santa Fe Trail as THS grapplers combined to go 29-36 in individual matches.
The five Chieftains with significant varsity experience — Tyler Hand (130), Caleb Himpel (125), Austen Holloway (189), Zack Kaighin (215) and Jeremie Maus (171) — led the way, combining to go 17-8.
Goebel said he expects the team's senior leaders — Holloway (2-3), Kaighin (4-1) and Maus (5-0) — to impact their younger teammates, who are still getting adjusted.
"The seniors lead by example," Goebel said. "Some of their wrestling throughout the season will also influence the younger wrestlers … in terms of those winning ways."
The coach said the biggest thing the younger wrestlers need to understand is the importance of scoring first. Goebel said that is what led to Tonganoxie's victories on Saturday.
Vinnie Angell (140), Himpel and Britton Price (135) scored early and often to post winning records on Saturday.
A junior, Angell won three of his five matches and secured all three victories by pinfall.
Himpel, a sophomore, went 4-1 in his matches and showed a lot of improvement from his freshman season. Goebel pointed out Himpel's only loss came to Bonner Springs' Caleb Seaton, a two-time state medalist.
Price impressed in his THS debut. The freshman was far from nervous, going 4-1 at the event.
"I was very pleased with his effort and his tenaciousness on the mat," Goebel said.
While Price enjoyed a successful opener, Goebel isn't worried about the other young grapplers who didn't start the season on fire.
"It's a long season, and how you finish is what matters," Goebel said.
Although the season opener wasn't a complete success, Goebel said the duals helped THS figure out areas that need improvement.
He reminded the wrestlers that the final product is more than two months away and they have to get better at practice every day.
"Overall, I was just pleased with our older kids leading by example and some of those younger kids stepping up," Goebel said.
Next up for Tonganoxie is the two-day Eudora Tournament, which begins at 1:30 p.m. Friday.
Individual records at KVL duals
112 — Danielle Mann, 0-5
119 — Justin Soetaert, 2-3
125 — Caleb Himpel, 4-1
130 — Tyler Hand, 2-3
135 — Britton Price, 4-1
140 — Vinnie Angell, 3-2
145 — Patrick Rachford, 1-4
152 — Ian McClellan, 1-4
160 — Michael Sullivan, 0-5
171 — Jeremie Maus, 5-0
189 — Austen Holloway, 2-3
215 — Zach Kaighin, 4-1
285 — Ty Barton, 1-4