Students pitch in, help family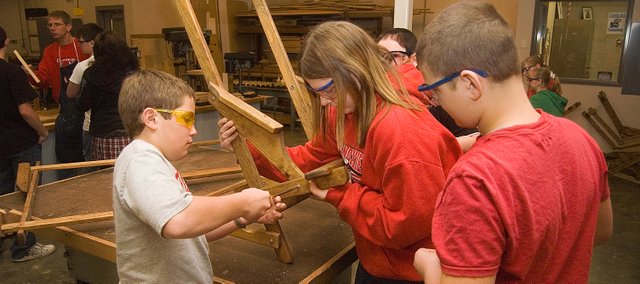 What started as 600 parts strewn throughout the industrial arts room at Tonganoxie Middle School has turned into 25 chairs.
And in the process, it's benefiting a Tonganoxie family.
Eighth-graders in Chris Weller's industrial arts class and Vickie Hughes' family and consumer sciences class partnered for a group project in which students are mass-producing folding lounge chairs. Industrial arts students put together the frames, while the family and consumer sciences students assembled the canvas pieces on which a person sits.
Students could purchase the chairs for $20 and two of the chairs will have Team Tongie logos screened onto them. Those will be donated to Team Tongie to be auctioned off at a later date.
On Tuesday, during a gathering of students near the TMS commons area, Weller and Hughes surprised student Austin Harris with a $100 check from the chair profits. His parents, Amy and Jeremy Harris, were severely injured in a motorcycle accident in September. Jeremy was released from the hospital later that month, while Amy's stay was longer. She was released from the hospital in November. She soon will do in-home rehabilitation.
The Tonganoxie Middle School football team also presented Austin with a $100 gift certificate for his family.
Jeremy and Amy, as well as Austin's grandparents, Roger and Donna McCrory, were on hand for the event.
"That was super," Amy said about the donations.
Her mother, Donna McCrory, fought back tears as she spoke about what the community has done for the family.
"The whole town of Tonganoxie has been very good to this family," she said. "And we can't thank everybody enough for what they've done for the kids."
Other money from the chair sales will go toward a party for students at the end of the school year.
The project has taken about two weeks, Weller said.
Weller said he was proud of how his students paid attention to detail in all facets of the project.
"Probably the best thing they showed was their craftsmanship," he said.
One of Weller's students, Ian Finkbiner, said he liked the project.
"It was a fun project," he said. "It was one of the best projects."
Classmate Madison Simmons said she was glad to see some of the money go toward a good cause as well.