Youths learn phrases in various languages for Madrigal Feaste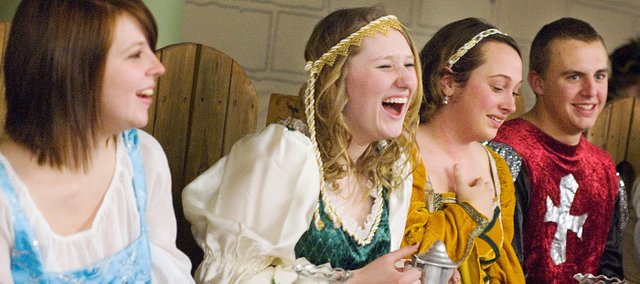 For Tonganoxie High School and Tonganoxie Middle School students, being involved in the annual Madrigal Feaste is like history, language, theater and music classes all wrapped up into one.
Tom Gifford, THS choir director, said each year the students have to learn songs that contain old English as well as renaissance Spanish and Italian.
"I was really proud of the kids for a tremendous effort on learning all of this strange music from the renaissance era and medieval times," he said. "It's not common music that you hear today and they do a really good job with it."
On Friday and Saturday, Tonganoxie Middle School's commons area was transformed into a medieval court for the eighth annual Madrigal Feaste.
Gifford said they had record attendance on Friday that was broken on Saturday when nearly 190 guests arrived for the show.
Guests once again were invited to partake in scrumptious period dishes such as rosta wilde boare (ham steak) served with streng bene eke almande (string beans with almonds) and rosta botata (roasted potatoes). And for dessert, a cherrye (cherry) tart.
Besides the bountiful fare, which also included 50 gallons of wasseyle (wassail), guests were also treated to music and short skits that tied the evening together.
One of the highlights this year was a joust between the red knight, played by Bryson Hewins, THS senior, and the green knight, played by Keith Slater, THS junior.
"This year I knew we were going to have a joust," Gifford said. "I ran into some writer's block trying to get all of the jokes in there. I like to keep it light-hearted and fun."
Alisa Barnes, THS senior and Madrigal Feaste queen, said the jousting skit has been one of her favorites through the years, which made it a great memory for her last year at THS.
"I could never forget this," Barnes said about the event. "There have been so many fun and shared memories that I will think back on and be glad I participated."
Matt Titterington, THS senior and Madrigal Feaste king, also was glad for the experience.
He said it was different being the center of attention, but he enjoyed getting to walk around and speak with guests.
Now that the eighth annual Madrigal Feaste has gone into the history books, it is once again up to Gifford to start coming up with a script for next year's show.
"The scripts don't come to me very easily," Gifford said. "But I know I need to get it done early."