Dancer to make fifth appearance in 'Nutcracker'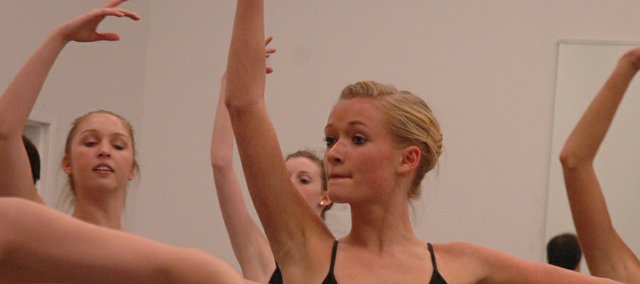 Madison Epp, of Bonner Springs, has danced her way through four "Nutcracker" productions at Kansas City Ballet.
This year she will perform once again in the elaborate production, dancing in the beloved and well-known Waltz of the Flowers and snow scenes. Epp, who has been studying ballet since third grade and taking classes at KC Ballet for the past five years, says the parts offer more of a challenge this year than previously.
"I'm a little nervous about it just 'cause we're dancing with the professional company and just trying to stay together with everyone and getting everything right since it's kind of a corps ballet," Madison said. "It's pretty hard."
The number of dancers performing in the entire production totals 210, including 26 dancers with the KC Ballet professional company. Though Epp is only 14 years old, KC Ballet artistic director William Whitener said Epp was ably equipped to handle her own among the more- advanced dancers.
"Because she's been steady with her work, and she's a consistent worker and proud of her achievements and eager to learn," Whitener said of Epp. "We're very happy to have her in the production again."
This will be the first year Epp will perform in the more complicated Waltz of the Flowers and snow scenes, and she says she has never danced the same part more than once. Her first year she performed as a party girl in the opening party scene, and the next year she performed as a ginger in the second act. She was Clara, the lead character, in her third year and a mirliton in her fourth. This year, she says, will be a chance for her to exhibit the skills she has learned throughout her years performing with KC Ballet.
"You have to have really good technique, of course, to do this role and just stage presence really helps and a lot of movement with your upper body," Epp said of what her role in the production will entail.
Epp said the rehearsal period to prepare for "The Nutcracker" has been a rigorous one, with rehearsals seven days a week. She says she has enjoyed showing up to rehearsal each day and getting a chance to dance with professional dancers.
"It kind of makes you work harder knowing that you're with people that are really good and it kind of inspires you when you walk in (to the rehearsal room)," Epp said. "Not (to) be like them, but just, it amazes me how good they are."
Whitener said this year's "Nutcracker" would use the same choreography created by his predecessor at KC Ballet, Todd Bolender, back in the early 80s. The production has been presented at KC Ballet every year since then. The onstage portion will be coupled with offstage accompaniment performed by the Kansas City Symphony Orchestra, which will play Peter Tchaikovsky's famous score.
"Now that the winter's turning cold, it will fit right in with the season," Whitener said of the production. "It adds to the overall warmth and joy of this time of year, and of course the score is one of the most beloved of Tchaikovsky's in the history of music."
Though a batch of mixed feelings are coursing through Epp as she prepares for her performance, she remains confident.
"I'm excited and nervous at the same time but … since it's my fifth year doing 'Nutcracker,' it's not something totally new," Epp said. "I've seen people do this role before, so it's not like a total shocker."
"The Nutcracker" will open at 7:30 p.m. Wednesday, Dec. 16, at Kansas City Ballet, 1616 Broadway, Kansas City, Mo. The production will run through Dec. 27, and a full performance schedule is available at kcballet.org.