THS

struggles against Piper pressure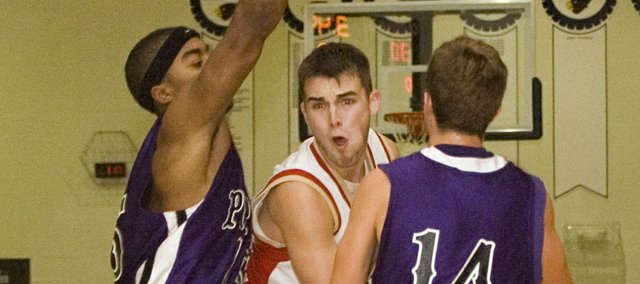 Eudora — The Chieftains were kicked out of their comfort zone by Piper Thursday night.
The Tonganoxie High boys basketball team was trapped, pressured and frustrated in a 59-43 loss to the Pirates in the third-place game at the Cardinal Invitational.
Tonganoxie (1-2) never led as it struggled to take care of the basketball against an aggressive Piper defense, turning the ball over 21 times.
"We didn't do a good job of executing our own stuff," said THS coach Shawn Phillips. "If we don't address turnover issues, we're going to struggle."
After falling behind by 10 in the second quarter, THS senior forward Keaton Schaffer scored all of the Chieftains' points in a 6-2 run that cut the deficit to six.
But Piper went on a 7-1 run to close the half and led by double digits the majority of the last two quarters.
Schaffer led THS with 15 points and six rebounds. Dane Erickson scored 12 points and Justin Jacobs finished with nine.
Phillips was displeased with Tonganoxie's showing.
"Our overall effort tonight wasn't very good," the coach said.
THS plays at Perry-Lecompton in its Kaw Valley League opener on Tuesday at 7:30 p.m.
Score by quarters
Piper 22 16 8 13 — 59
THS 13 13 6 11 — 43
Tonganoxie scoring
Dane Erickson 5-9 2-3 12, Dylan Scates 1-7 0-0 2, Keaton Schaffer 6-15 3-5 15, Jeremy Carlisle 1-7 0-0 2, Justin Jacobs 3-7 3-4 9, Colby Yates 0-2 0-0 0, Austin Vickers 1-2 1-3 3, Ben Williams 0-0 0-0 0.