Eudora girls edge Tonganoxie at Paola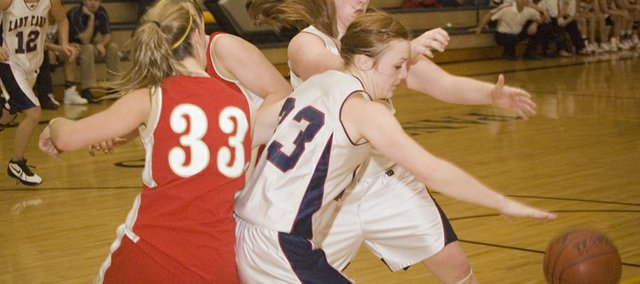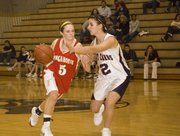 Paola — The girls basketball teams from Tonganoxie High and Eudora didn't let the blasé atmosphere of a practically empty gym and a seventh-place game stop them from producing a dramatic finish at the Paola Invitational Friday afternoon.
The game came down to the final possession, when Cardinals sub Anyssa Mays knocked away a Chieftains in-bound pass with 1.7 seconds remaining to help EHS escape with a 40-39 victory.
After THS senior guard Andie Jeannin banked in a three with 3.5 seconds left, Eudora (2-2) threw the ball in bounds, where Jeannin and Jenny Whitledge forced a held ball, giving possession back to Tonganoxie (0-3).
With no timeouts remaining, the Chieftains tried to run one of their baseline out-of-bounds sets but couldn't get the ball to Lauren Hall at the top of the key.
Whitledge tied the game at 36 with a layup at the 1:30 mark but Eudora took the lead for good on a baseline jumper from Jennifer Bowser with 24 seconds to go.
Cardinals senior Sydney Schmille scored inside with only eight ticks remaining to provide EHS with just enough points to leave Paola with a win.
Both teams struggled to convert from the floor in the opening minutes of the fourth quarter. Tonganoxie made the first field goal of the period with 3:39 to go, when Hannah Kemp drove in for a bucket.
Although the Cardinals had scored two points at the foul line in the fourth thanks to Hannah Kouri, it wasn't until 2:13 remained that Bowser gave them their first fourth-quarter field goal.
A prolonged offensive drought plagued THS throughout the second half. Whitledge scored the first basket of the third quarter to extend the Chieftains' lead to three but it wasn't until Kemp's aforementioned drive that Tonganoxie got another field goal.
To make matters worse, the Chieftains went 6-for-16 at the free-throw line in that stretch.
They shot just 38 percent (8-for-21) at the line for the game.
Hall, a THS senior guard, led all scorers with 11 points. Eudora's Schmille, who scored 10, was the only other player in double figures.
Eudora travels to Silver Lake on Tuesday.
Next up for Tonganoxie is a Tuesday road game at Perry-Lecompton.
Score by quarters
THS 11 12 3 13 — 39
EHS 12 10 10 8 — 40
Tonganoxie scoring
Andie Jeannin 2 1-6 6, Lauren Hall 4 1-3 11, Jenny Whitledge 2 5-10 9, Tavia Brown 2 0-0 4, Hannah Kemp 3 0-0 6, Haley Smith 1 0-0 2, Danielle Miller 0 1-2 1.
Eudora scoring
Jennifer Bowser 4 0-0 8, Evan Folks 3 1-2 7, Sydney Schmille 5 0-3 10, Shea Lounsbury 3 1-4 7, Victoria Lehmann 2 0-0 4, Hannah Kouri 1 2-3 4.