Chieftains struggle at Eudora tournament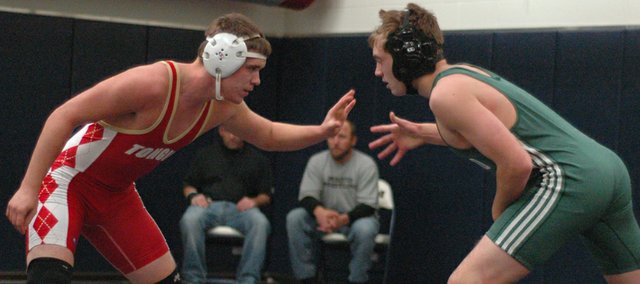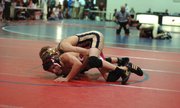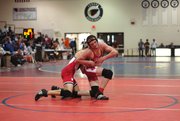 A pair of Tonganoxie High wrestlers brought medals home from the Eudora Tournament of Champions this past weekend, but the team struggled overall.
Senior Jeremie Maus finished third in the 171 weight class with a 6-1 record and fellow senior Austen Holloway placed eighth in the 189 class with a 2-2 mark, but other Tonganoxie grapplers combined to go 7-28 and THS finished 20th at the 24-team tournament.
Jonas Myers, who split his four matches at Eudora, going 2-2, was the only other wrestler to win multiple contests.
THS coach Jeremy Goebel was disappointed the team didn't have a better showing.
"I just want our kids to compete," the coach said, adding he wants to see Tonganoxie wrestlers give their all each time they take the mat. "I think there were some matches last weekend where that wasn't the case."
Goebel was proud of Maus' showing at Eudora. The senior's only loss came to Blue Valley's Parker Madl, a two-time state champion.
The coach also lauded Holloway and Myers for wrestling tough.
Five Chieftains — Justin Soetaert (119), Caleb Himpel (125), Britton Price (135), Ian McClellan (152) and Ty Barton (285) — picked up one win each at Eudora.
Soetaert provided one of the highlights of the weekend for Tonganoxie in a match against Baldwin's Cody Sellers. Soetaert was trailing in the match, 11-3, then pulled off a victory with a pin.
"Justin, he just keeps battling. He's a go-er," Goebel said.
Despite an eight-point deficit, Soetaert put himself in position to score some near-fall points and then secured the pinfall and the victory.
Goebel said his opponent was tired, but Soetaert wasn't.
"We won because we kind of weathered the storm and we got after it the whole match," the coach said.
If Tonganoxie wants to start winning more matches, Goebel said the wrestlers need to keep their backs off the mat.
"Our key attribute would be being in shape, outworking our opponent," Goebel said. "If we get pinned, we don't have time to showcase that. We've got to be in the match for three periods — that gives us a great chance to come out on top.
"We've got a lot of young kids on our team and, overall, we've got to minimize our falls."
Although Patrick Rachford went 0-3 for THS at Eudora, Goebel said he liked the way the 145-pounder got after it. Rachford's opponents, the coach said, really had to earn their victories.
"You want that," Goebel said. "If you're not gonna win the match, you've got to make them feel like they've lost the match."
Obviously, the Chieftains were disappointed to score just 74.5 points (Lansing won the tournament with 244) and finish 20th at Eudora. Goebel said they have nowhere to go but up and he thinks the team will be more competitive because of the level of work and commitment the wrestlers have shown at practice. He said they just need to find ways to transfer that to the more important setting, competition.
Tonganoxie travels Thursday to Ottawa, but the big event of the week ahead is the Tonganoxie Invitational, which begins at 9 a.m. Saturday at THS.
The home tourney is the last event on Tonganoxie's schedule until the new year.
Goebel expects the Chieftains to defend their home turf.
"These seniors, they've won it three years in a row," the coach said of the invitational. "That motivator in itself should get the kids to wrestle at their best, especially since it's home."
Eudora Tournament of Champions
Top five teams: 1. Lansing, 244; 2. St. Thomas Aquinas, 201.5; 3. Gardner-Edgerton, 191; 4. Mill Valley, 175.5; 5. Lawrence, 175.
THS records at Eudora
119 — Justin Soetaert, 1-3
125 — Caleb Himpel, 1-2
130 — Tyler Hand, 0-3
135 — Britton Price, 1-2
140 — Vinnie Angell, 0-3
145 — Patrick Rachford, 0-3
152 — Ian McClellan, 1-3
160 — Michael Sullivan, 0-4
171 — Jeremie Maus, 6-1
189 — Austen Holloway, 2-2
215 — Jonas Myers, 2-2
285 — Ty Barton, 1-3