Last-second loss:
THS

girls fall short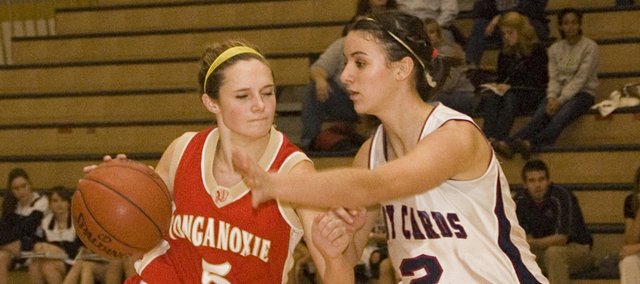 Photo Gallery
THS girls lose nail-biter
The Tonganoxie High girls basketball team lost 40-39 to Eudora in the seventh-place game of the Paola Invitational on Friday.
Paola — At least the Chieftains had a chance.
Despite 13 missed free throws and a prolonged field-goal drought in the second half, the Tonganoxie High girls basketball team had one final opportunity to beat Eudora with less than two seconds remaining on Friday in the Paola Invitational's seventh-place game.
But as an in-bounds pass from under the THS basket glanced off the fingertips of Lauren Hall at the top of the key, she knew it was over.
"'We just lost the game' is what's going through my mind," the Tonganoxie senior guard said of her inner monologue on the final play of a 40-39 loss to the Cardinals.
The Chieftains (0-3) had used their final timeout with 3.5 seconds left after Andie Jeannin banked in a three-pointer from the top of the arc, cutting Tonganoxie's deficit to one.
Amazingly, Jeannin and freshman Jenny Whitledge were able to tie up Eudora on the ensuing play, giving possession back to THS with 1.7 seconds remaining.
But Tonganoxie's relative unfamiliarity with one another, Hall said, made executing in the clutch difficult.
"With a whole new team, it's hard to know what each person's going to do in that scramble situation," Hall said.
The team's overall youth also contributed to some missed chances in the second half. Tonganoxie led, 23-22, after two quarters. But the Chieftains could not get a shot to fall for most of the third and fourth.
Whitledge drove in for the first basket of the third quarter but THS didn't score another field goal until freshman Hannah Kemp converted on a drive with 3:39 to go in the fourth quarter.
Unfortunately for Tonganoxie, an outbreak of free-throw-itis overcame the squad in the meantime as the Chieftains made just six of 15 free-throw tries during the field-goal drought.
THS coach Randy Kraft said the misses were contagious.
"I think mentally (pressure builds), especially for a young team without a lot of experience," Kraft said.
The Chieftains started two freshmen, Kemp and Whitledge, and a sophomore, Tavia Brown, in the loss to Eudora — the team's slimmest defeat of the year after losing by 12 to Highland Park and by 33 to Bishop Ward in its first two games at Paola.
With such a young lineup, Jeannin said the games in Paola really helped out the Chieftains, despite their 0-3 start.
"It got us learning how to play with each other more because last year was pretty much a completely different team and we played a completely different way," Jeannin said.
Kraft said the hardest part of coaching a young squad is one mistake can shake an inexperienced player's confidence.
"If they mess up they feel bad about it," Kraft said. "We've got to quit thinking about the past and be positive with what's going to happen in the future."
As the Chieftains look forward, starting this week with Kaw Valley League contests, they have confidence in some facets, especially defense.
Kraft said THS looked better at times in its one-point setback on Friday.
"We scrapped a lot better as far as blocking out and rebounding," the coach said, noting the team is further along defensively right now, and the offense will have to catch up.
Jeannin said the team needs to be more patient with the ball.
"We just got really antsy," she said of the team's offensive woes. "We didn't take our time."
Hall said THS can rely on its defense for a boost, too.
"When our defense picks up, it really helps us a lot — we get going, we get fast breaks," Hall said after scoring a team-high 11 points.
Although THS lost its first three games, Kraft said the team learned some things in the process.
"Every game we hope to improve a little bit and we've got to focus on what we did do (well) and continue to do that," Kraft said.