Cost-cutting measures evaluated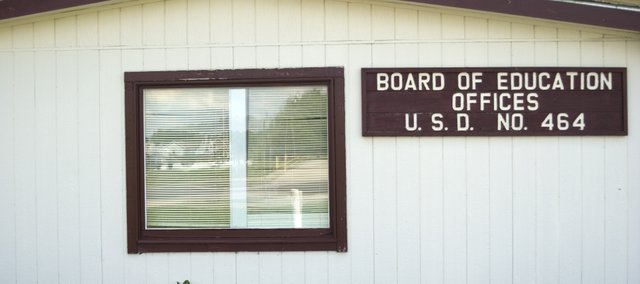 Additional state budget cuts have left school districts across the state looking at ways to trim their own budgets once again.
The latest cut, an additional 5 percent in state aid, has the Tonganoxie School District looking at possible options for reducing expenses in the coming years, one of which could be eliminating seventh-grade athletics.
At Monday's school board meeting, Superintendent Kyle Hayden went through a list of possible cuts, including the elimination of seventh-grade athletics.
Hayden said middle school athletics costs a total of $120,000 annually. He also noted some area school districts, such as Shawnee Mission and Blue Valley, do not offer middle school sports, but non-school sanctioned opportunities are available. And, he pointed out, Tonganoxie is closer to those opportunities than districts in some other parts of the state.
"Anything on this list is not USD 464 alone," Hayden said, noting several districts across the state are evaluating possibly taking the same action.
Some other areas of possible reductions discussed Monday:
• close THS west campus kitchen for breakfast.
• reduce food offerings.
• reduce purchasing plans for 2010-11 by 50 percent by postponing equipment replacement.
• limit spending to 75 percent of budget.
• fund only KSHSAA events.
• reduce THS non-varsity activities.
• postpone uniform replacement.
• establish an athletics cut policy.
• do not accept any additional out-of-district students in grades kindergarten through eighth grade because of the lack of classroom space and establish tuition for all out-of-district students.
• staff reduction through reduced hours.
• eliminate overtime and implement a hiring freeze.
Hayden stressed that the items were for consideration and that the board could find some possible reductions simply won't work for the district.
Board member Mildred McMillon suggested that a work session be scheduled to discuss the district's options further.
Hayden said the district's enrollment growth provided a 4.8 percent increase in state aid, but that was nullified by the 5 percent decrease due to state cuts.
He also noted state funding was arriving late and that the second of two payments to the district for December likely will arrive in January.
Hire, resignations approved
After meeting in executive session for 25 minutes to discuss personnel matters, with Superintendent Hayden also in the meetings, the Tonganoxie School Board approved the hiring of Joe Krivjansky as part-time custodial, maintenance and transportation employee and accepted the resignations of Elizabeth McAlexander as transportation paraprofessional, effective Jan. 8, and Teri Richert, bus driver, which was effective Nov. 16. The board approved the measures, 6-1, with board member Kathy Baragary voting against.
Krivjansky will fill the full-time position at Tonganoxie High School of Phyllis McDaniel, who is retired.
Property insurance to be extended
The board unanimously approved the CBIZ proposal from American First Insurance for a property insurance extension through June 30, 2010. Hayden said the district has increased its property coverage due to new purchases and values that did not seem to cover replacement costs. The cost for the extension is $109,616, which is a 3.5 percent increase. That's at at the pro-rated seven months, Dec. 1, 2009- June 30, 2010, as compared to the previous full year at $179,736.
Hayden, Dickerson speak at KASB
Hayden and Tonganoxie Middle School principal Jill Dickerson presented information at the Kansas Association of School Boards annual conference Dec. 5 and 6. Hayden spoke about the district's energy solutions project, while Dickerson spoke about a new state program, Destination Imagination, which is a 21st century learning skills program for youths in elementary and middle schools.
Dickerson has been asked to be state coordinator for the program. Baragary asked how much time the position would take away from her duties as TMS principal. Hayden said "not much," noting much of her work was being done during evening hours and weekends.