Local woman longtime cross-country skier
TES

staff member skiing Tonganoxie for 25 years; co-worker looks to join her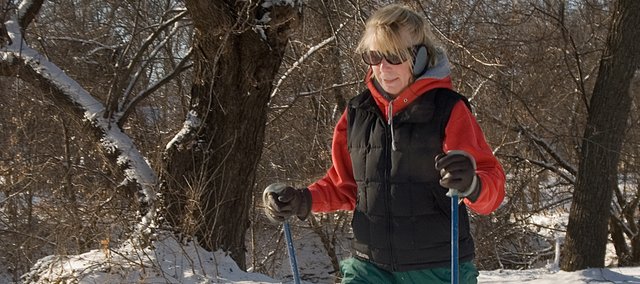 Vail, Colo., it is not, but Tonganoxie is good as any ski resort for one of its residents.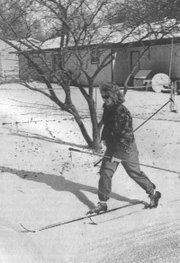 After the first big snow of the season earlier this week, Pam Jeannin was out and about in Tonganoxie with her skis.
A Christmas gift 28 years ago, the skis are something Jeannin breaks out for a little cross-country skiing when the weather allows.
The gift actually was more practical for where she was living at the time — Washington state — which is where she grew up.
"I was pregnant at the time with twins, so obviously I didn't use them then," Jeannin said with a laugh. "I've probably been using them for at least 25 years."
An ideal spot for cross-country skiing in Tonganoxie has been the Leavenworth County Fairgrounds, though Jeannin has skied elsewhere in the southern Leavenworth County town. Earlier this week, she could be seen skiing at VFW Park.
Of course, one doesn't equate skiing with Kansas, but that's not an issue for Jeannin.
No mountains? No problem.
"With cross country skis, you really don't want hills," Jeannin said.
Cross-country skis also are structured a bit different, as only the front of the foot is locked into a boot on each ski, leaving the heel to move freely. For downhill skiing, the foot is fully stationary in the boot.
Jeannin said one doesn't see people cross-country skiing very often in these parts, but she soon could have a snow buddy.
Pam Slawson, who has taught internationally for many years, moved back to Tonganoxie earlier this year. In addition to teaching overseas, from 1989-93, she taught in Alaska. Since then, she's taught in Ethiopia, Bangladesh and Morocco, not exactly prime places for skiing.
"Maybe she'll inspire me, because I have skis I haven't used for 20 years," Slawson said.
She also hopes Jeannin can provide tips on skiing.
"I don't have a lot of experience skiing," Slawson said. "When we moved up to Alaska and living on the tundra, that's the thing to do is get some cross-country skis.
"We couldn't get out and run or walk in that stuff, but cross-country skiing is like taking a good hike. You get some exercise and get out and see things."
During this past winter, Jeannin said she was able to ski around 10 times in Tonganoxie, though she wishes the conditions would allow her to get out in the snow more often, as she said it's a great workout.
"If I could do that every day I would be in super shape; I'd have the nice slim legs I've always wanted," Jeannin said with a chuckle.
Slawson suggested skiing on the Tonganoxie school district's cross country course, terrain Jeannin has been on often watching her daughter, Andie, run cross country for Tonganoxie High School. She said it's a spot she hadn't thought about trying, but is eyeing it for the future.
No matter the location in Tonganoxie, Jeannin said she looks forward to the opportunity to get out her skis.
"When you have the fresh snow, that's the opportune time to go out, before the snow plows come through," she said. "It's so nice. It's so peaceful. I always take my iPod and listen to the music while I go."