Late rally leads to
THS

win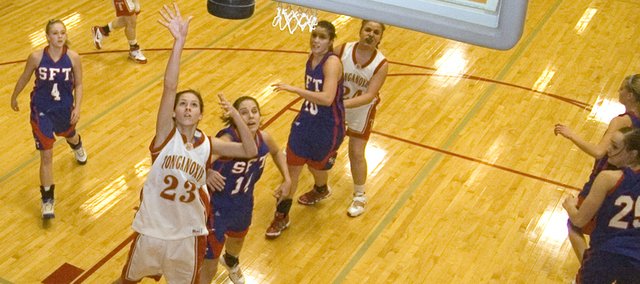 Photo Gallery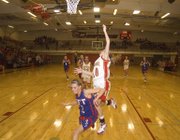 Tonganoxie girls win home opener
The Tonganoxie High girls basketball team won its home opener against Santa Fe Trail on Friday, 40-35.
It took three quarters, but the Tonganoxie High girls basketball team finally decided to start playing Friday night.
After a so-so first period, and a dismal stretch through the second and third, the Chieftains turned it on in the fourth to secure a 40-35 home win over Santa Fe Trail.
"When it became time to step up, we started playing harder," THS coach Randy Kraft said after his team scored 22 fourth-quarter points, eclipsing the team's 18-point total from the first three periods.
THS (2-3) trailed the Chargers by eight after three quarters, but came out very aggressive offensively to open the fourth on an 11-2 run.
Tonganoxie senior Lauren Hall jump-started the stretch with a baseline jumper.
Then freshman point guard Hannah Kemp drove the length of the floor for a lay-in before Tavia Brown hit a jumper and Hall drained a three.
"They kind of fell in bunches and that really helped," Kraft said.
The Chieftains' other freshman, forward Jenny Whitledge, scored inside with 3:20 remaining to give THS its first lead of the second half.
Kraft said increased effort led to the game-saving spurt.
"We're so young that we have to get in a rhythm, and the harder we play, the better rhythm we get in," Kraft said.
Hall said the coach kept reassuring the players that they were getting good shots and, eventually, they would fall. She said that kept the Chieftains from getting discouraged, and the team was able to feed off that, as well as some hustle plays.
"I think that once we got in rhythm, we were running our set plays, we were really running the floor," Hall said of the fourth-quarter turnaround.
The game was tied at 33, but Hall hit her third three of the game with just under a minute left, and Whitledge and Andie Jeannin combined to go 4-for-4 from the foul line down the stretch.
The first few games of the season, Kraft pointed out, the Chieftains were hurt by free-throw misses.
That wasn't the case on Friday. Tonganoxie went 6-for-8 at the foul line in the fourth quarter.
Although the team was 9-for-16 at the line for the game, Kraft hopes the clutch conversions are a sign the players are on the right track in that facet.
As for everything else, Kraft is seeing strides.
"We're just a young team, and they haven't figured it all out yet," the coach said. "They're starting to get more coachable and more receptive to what we're telling them."
The Chieftains are off until Jan. 8, when they play host to Bishop Ward.
Score by quarters
SFT 6 10 10 9 — 35
THS 9 5 4 22 — 40
Tonganoxie scoring
Andie Jeannin 1-6 2-2 4, Lauren Hall 5-10 2-4 15, Danielle Miller 0-7 1-2 1, Jenny Whitledge 6-12 3-4 15, Hannah Kemp 1-7 0-0 2, Lindsey Fatherley 0-1 0-2 0, Tavia Brown 1-2 1-2 3, Haley Smith 0-0 0-0 0.