Tonganoxie boys fall flat in fourth
Photo Gallery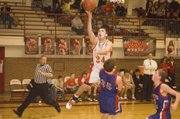 THS boys lose to Chargers
The Tonganoxie High boys basketball team lost its home opener on Friday to Santa Fe Trail, 65-53.
A nine-point outburst by the Tonganoxie High boys basketball team in the final 48 seconds wasn't nearly enough to salvage a home game against Santa Fe Trail Friday night.
A scoreless drought in the 7:12 leading up to that point was the difference as the Chieftains fell, 65-53.
Sophomore THS center Dane Erickson hit a jumper to cut a deficit that was once as large as 12 to five late in the third quarter, but it wasn't until a Keaton Schaffer drive in the final minute of action that THS (2-3) scored another point.
"We didn't do a good job of trying to get the ball into the paint, which we need to do to convert some of those," said Shawn Phillips, THS basketball coach. "We settled for too many jump shots."
Santa Fe Trail went on a 12-0 run during the drought.
The Chargers had a height advantage at nearly every spot on floor against Tonganoxie.
"It's always difficult when you have a 6-7 kid standing in the middle," Schaffer said of Chargers center Stuart Kraus. "He's a good player."
Regardless of offensive misfires, Phillips lamented Tonganoxie's defense as the culprit in the loss.
"We lost that game on the defensive end of the floor," Phillips said. "We've got to defend better if we want to win."
Schaffer said the players got that message from Phillips in the locker room after the loss. He agreed that the team's defense would have to improve because on offense "everybody's going to go through (scoreless) stretches like that" from time to time.
Phillips said there were a number of defensive breakdowns against SFT, citing poor on-the-ball pressure, failure to slow down the Chargers' high-low sets and an inability to stop drivers.
"Our defensive intensity is just not where it needs to be in order to be a good basketball team," Phillips said, noting 60-plus points from an opponent was unacceptable.
Schaffer said the Chieftains need to do a better job of protecting their home floor. After going 9-2 at THS last season, the team dropped its home opener.
"It's very disappointing," Schaffer said. "Santa Fe's a good team, but we should've hustled a lot better than we did. We definitely didn't give the fans what they wanted to see."
Schaffer led THS with 21 points in the loss. Erickson scored nine, as did sub Austin Vickers.
Tonganoxie doesn't play again until a Jan. 8 home date with Bishop Ward.
Score by quarters
SFT 13 20 18 14 — 65
THS 11 14 19 9 — 53
Tonganoxie scoring
Dane Erickson 4-8 1-1 9, Dylan Scates 2-5 0-0 6, Keaton Schaffer 8-17 4-8 21, Jeremy Carlisle 2-9 1-2 6, Justin Jacobs 0-6 2-3 2, Austin Vickers 3-5 2-2 9, Ben Williams 0-1 0-0 0, Colby Yates 0-1 0-0 0, Dylan Jacobs 0-0 0-0 0.