Tonganoxie wrestling squad 4th at home invite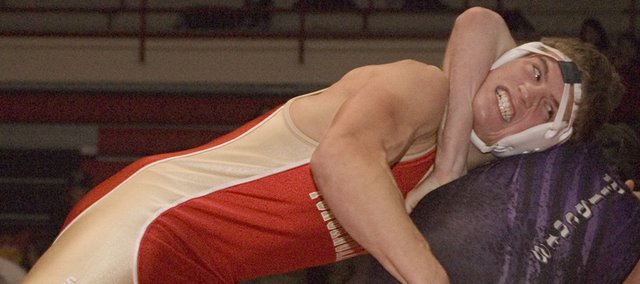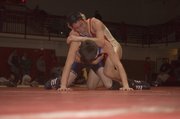 The Tonganoxie High wrestling team only finished fourth at its home invite on Saturday, but two Chieftains won individual championships
Sophomore Caleb Himpel won the 125-pound class and senior Jeremie Maus was the top grappler at 171 pounds.
Himpel and Maus both went 4-0 as THS played host to the Randy Starcher Memorial Wrestling Invitational.
Tonganoxie had one more wrestler make the finals. Justin Soetaert lost, 11-8, in the 119-pound championship match.
Two more Chieftains made the medal round. Austen Holloway (189) and Jonas Myers (215) both wrestled in third-place matches, but lost to finish fourth.
Adam Thomas finished fifth in the 130-pound class, Britton Price was sixth in 135, Justin Crotty took sixth in 140 and Patrick Rachford was sixth in 145.
The Chieftains' Ty Barton (285) won one match, but lost two others.
At 152, Ian McClellan was 0-3 for Tonganoxie. THS senior Michael Sullivan was 0-3 in 160-pound matches.
Tonganoxie doesn't compete again until Jan. 9 at the Louisburg Invitational.
Randy Starcher Memorial Wrestling Invitational
Team scores: 1. Louisburg, 302.5; 2. Piper, 245.5; 3. Perry-Lecompton, 236; 4. Tonganoxie, 169; 5. Rock Port (Mo.), 137.5; 6. Atchison, 121; 7. Blue Valley West JV, 109.5; 8. Immaculata, 90.5; 9. Bishop Ward, 73; 10. Doniphan West, 72.5; 11. Jayhawk Linn, 51.5; 12. Oskaloosa, 17.