Christmas creations
Local resident's tradition of making goodies for loved ones started 30 years ago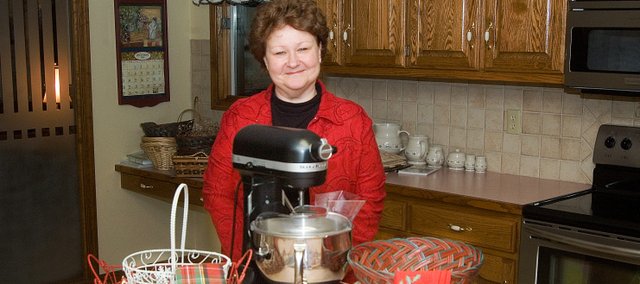 Debbie Becker has been spreading holiday cheer for more than 30 years with the gift of baked goods.
But what started as making holiday candy for a few has turned into baked good baskets for a slew of family, friends and neighbors.
The Tonganoxie resident said she started making candy for loved ones about the time she and her husband, Gene, married more than 30 years ago.
Becker said that after the first few years, the candy making evolved into bread and cookie making.
Now she makes 24 gift baskets filled to the brim with cookies and miniature loaves of bread, possibly an ornament or a candle or even packages of coffee or cocoa. And that's not counting loaves she gives to others as well.
"I have some favorite recipes that I use every year, but if I find an interesting recipe in a cookbook or magazine, I might add it to the list that year," Becker said.
Her favorite cookie recipe is for a melamakarona, which is a Greek cookie dipped in a glaze and walnuts. One of Becker's sisters gave her the recipe. As for bread, she reports that an apple pound cake recipe she uses for the mini-loaves is a favorite.
She said cookies that make the "cut" for her baskets are a little more special than basic chocolate chip cookies — the pastries may have chocolate drizzle, or are dipped in glaze and have nuts added or colored sugar on top. She said none of her cookies is really unique, but they have to have some special "feature" to be included in the baskets.
The baskets go to her sisters, parents, children, in-laws, other relatives, some good friends and a few neighbors.
Gift planning for the current Christmas usually starts a year in advance, when baskets and linens are in the clearance aisles. Wire and woven baskets are lined with fabric and then filled with the array of goodies. Usually four to five kinds of breads and six to eight kinds of cookies are included in the baskets.
It's work, but in the end, Becker finds it to be gratifying gift-making.
"Every year as I am hurrying to finish all of the baking and cookie decorating, I tell myself I am going to have to think of something different to do next year," Becker said. "But then when all of the baskets are finished and sitting around the kitchen and under the tree awaiting delivery, the feeling is very satisfying and I decide it was worth it after all."