Staying off the mat
Chieftains show improvement at home invitational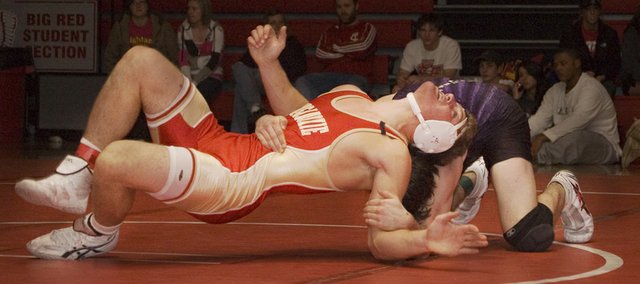 Photo Gallery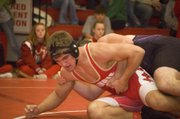 THS wrestlers finish 4th at home
The Tonganoxie High wrestling team had one of its better outings of the young season on Saturday at the Randy Starcher Memorial Wrestling Invitational. The Chieftains finished fourth at their home invite.
It's not too often that the Tonganoxie High wrestling team gets to play the starring role in its home gymnasium.
So when the Chieftains played host to the Randy Starcher Memorial Wrestling Invitational on Saturday, they were plenty motivated.
Following some early-season struggles in its first three events this year, the THS wrestling team won two individual championships, 22 matches and placed fourth.
"In front of your home crowd, you just want to show what you've got," said Tonganoxie sophomore Caleb Himpel, first-place finisher in the 125-pound class.
Senior Jeremie Maus (171) was the Chieftains' other champion Saturday. He, like Himpel, capped a long day of competition by wrestling under the spotlight — with the rest of the gymnasium lights off — in the title round.
"I love it," Maus said after going 4-0. "That's one of the best things you can ever do is wrestling under that spotlight."
Justin Soetaert earned a title match as well in the 119-pound class. Although he lost by decision, 11-8, he was amped to compete for an individual crown at the home meet.
"There's definitely more of a burden to win because you've got to come out and showcase what you've got to your home crowd," Soetaert said after taking second place.
A THS junior, Soetaert nearly doubled his win total for the season with three victories at home. He said Friday's practice leading up to the home tournament served as an eye-opener.
"We kind of got ripped a little bit because we're not holding up to our potential," Soetaert said, adding the reminder motivated him plenty.
Himpel said the team did a lot of running at practice after underachieving in its first few events of the season.
"Because of that," Himpel said of the punishment conditioning, "we came out and wrestled really well today."
Although Tonganoxie wasn't able to defend its crown after winning the home tourney the previous three seasons (Louisburg won the event), THS coach Jeremy Goebel was happy with the response a tough Friday practice got out of his wrestlers as nine of the team's 12 grapplers finished in the top six.
"I thought we came and put it together for this tournament in terms of competing and wrestling tough compared to what happened last weekend," Goebel said, referring to the team's performance at Eudora Dec. 11-12, when THS won 15 matches and finished 20th.
Tonganoxie wrestlers went 22-25 at their home tournament. Austen Holloway (189) and Jonas Myers (215) each finished fourth; Adam Thomas (130) placed fifth; and Britton Price (135), Justin Crotty (140) and Patrick Rachford (145) all took sixth place.
Goebel said it was good to see the wrestlers compete at a higher level, even if the team wasn't able to win the tournament for the fourth straight time.
"Sure, we wanted to come in here and four-peat, but for us, we're a young team," Goebel said. "It's a good stepping stone because a new year starts in two weeks."
With winter break, Tonganoxie doesn't compete again until Jan. 9 at the Louisburg Invitational.
Randy Starcher Memorial Wrestling Invitational
Individual champions
103 — Cullen Hood, Louisburg
112 — Austin Hood, Louisburg
119 — Kenny Gulley, Atchison
125 — Caleb Himpel, Tonganoxie
130 — John Mehl, Perry-Lecompton
135 — Dennis Madden, Perry-Lecompton
140 — Bryce Hood, Louisburg
145 — Derek Mathia, Louisburg
152 — Trent Robb, Perry-Lecompton
160 — Brandon Ball, Perry-Lecompton
171 — Jeremie Maus, Tonganoxie
189 — Brett Dunlap, Doniphan West
215 — Airen Maxwell, Piper
285 — Tyler Ewy, Louisburg
Team scores: 1. Louisburg, 302.5; 2. Piper, 245.5; 3. Perry-Lecompton, 236; 4. Tonganoxie, 169; 5. Rock Port (Mo.), 137.5; 6. Atchison, 121; 7. Blue Valley West JV, 109.5; 8. Immaculata, 90.5; 9. Bishop Ward, 73; 10. Doniphan West, 72.5; 11. Jayhawk Linn, 51.5; 12. Oskaloosa, 17.
THS records at invitational
119 — Justin Soetaert, 3-2, second place
125 — Caleb Himpel, 4-0, first place
130 — Adam Thomas, 1-2, fifth place
135 — Britton Price, 2-3, sixth place
140 — Justin Crotty, 1-3, sixth place
145 — Patrick Rachford, 2-3, sixth place
152 — Ian McClellan, 0-3
160 — Michael Sullivan, 0-3
171 — Jeremie Maus, 4-0, first place
189 — Austen Holloway, 2-2, fourth place
215 — Jonas Myers, 2-2, fourth place
285 — Ty Barton, 1-2