2009: Reviewing the top local sports stories
Photo Gallery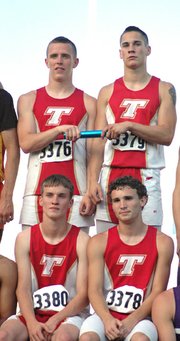 Mirror's top 10 stories of 2009
The Mirror ranks the top 10 local sports stories from 2009.
It's hard to believe another year of sports has already gone by, but 2009 is pretty much in the books.
The past 12 months provided local fans with plenty of entertainment, suspense and, occasionally, heartbreak.
Here's a look at The Mirror's top 10 sports stories of the year that was.
1. State championship for Stone
Although Austin Stone wasn't physically present for Tonganoxie High's boys 4x400 state championship in Wichita this past May, he wasn't forgotten by his teammates.
Jeremy Carlisle, Bret Koch, DJ Lindsay and David Powell wore "Team Stone" T-shirts to honor their absent teammate, who was in a rehabilitation center in Nebraska following a coma.
The four Chieftains dedicated the Class 4A state title race to Stone and delivered a 3:23.5 performance to bring home Tonganoxie's first relay championship and set a THS 4x400 record in the process.
2. Elliott finishes a winner
On the final day of his all-too-short Chieftains career, THS junior Jeremy Elliott won the boys javelin event at the Tonganoxie Invitational with a throw of 142 feet, 8 inches.
A standout on the girdiron and the wrestling mat at THS, it was in a track and field event on April 16 that Elliott competed as a Chieftain for the final time.
He died later that night in his sleep from a heart condition.
It was fitting that Elliott, known for his dedication, great attitude and athleticism, won a gold medal in his final athletic event.
3. Patterson queen of diamond
All-everything McLouth High senior catcher Kendall Patterson blasted a two-run homer in the top of the first inning on May 5 at Holton to become the all-time hits leader in the history of Kansas high school softball.
Patterson entered the game tied with former hits leader Kristin Doffing, of Campus, who finished her prep career in 1999 with 147 hits.
Patterson went 6-for-7 on her record-breaking day and went on to finish the season with a four-year batting average of .753 (also a state record) with 164 hits and 66 doubles (another record) in her career.
4. Yates clubs his way to top
What didn't Colby Yates do on the golf course in 2009?
In April, The Tonganoxie freshman led the Chieftains to a second-place finish at the Kaw Valley League Tournament and won the KVL individual title, Yates' fourth tournament win of the year.
He followed that up by qualifying for state, where he finished 14th in Class 4A at the championship event in El Dorado.
When fall rolled around, and Yates was a sophomore, he earned player-of-the-year honors in the Midwest Junior Golf Tour's fall session by capturing the points title in the 14-15 age group.
5. THS baseball heartbreaker
The Chieftains' 2009 baseball season came to a painful end with a 2-1, extra-innings loss to Ottawa in a regional final this past May at Leavenworth County Fairgrounds.
Senior right-hander Jace Waters starred in the nine-inning affair, throwing every pitch for Tonganoxie while striking out 14 OHS batters and allowing only three hits. Waters even drove in the team's only run on a sac fly.
Tonganoxie (15-7) had seven hits — four more than Ottawa — but never got multiple hits in the same inning.
A THS victory in the dramatic regional final would have meant a trip to state, a destination the program has not visited since 1992.
6. Banner year for Post 41
Not only did Tonganoxie's Post 41 baseball team win its league championship, the team went on to earn its first trip to the Kansas AAA Legion baseball tournament.
After a 9-8, comeback victory in the Post 23 League final in July, Post 41 got a break in its zone championship and received an invite to state.
Although Tonganoxie was 2-2 in its four-team, double-elimination zone tourney, it won the Zone 2 crown because Atchison, originally slated to play host to the Zone 1 tournament, saw the rest of the zone drop out. Atchison joined the Zone 2 playoffs, and because of the realignment, the bracket received two state invites.
At state, in Pittsburg, Post 41 scored twice in the bottom of the ninth to beat Atchison, 4-3, in its first contest before bowing out with losses in its next two games.
7. Brock wins KVL, regional
A 140-pound Tonganoxie senior, Matt Brock was dominant throughout his 39-7 senior season.
In February, when the postseason began, he was untouchable.
Brock broke a few hearts on Valentine's Day, going 3-0 at the Kaw Valley League Championships in Bonner Springs to win a league title in his weight class.
One week later, he went 4-0 at a Class 4A regional in Abilene to earn his second straight regional championship.
It wasn't until the following weekend, in Salina, that Brock finally was slowed down.
He beat the state's No.2-rated wrestler before losing two matches that ended his impressive THS career, which included a fourth-place state medal (130) in 2008.
8. Chieftains soccer playoff victory
The Tonganoxie boys soccer team made history the last week of October by winning a playoff match for the first time since the soccer program split to separate boys and girls squads.
The Chieftains won easily, 2-0, at Atchison thanks to, in part, goals from Matt Saathoff and Tyler Woolworth and a shutout from goalkeeper Keaton Truesdell.
The victory placed THS in unchartered territory — a Class 4-3-2-1A regional final, where the team's season came to an end.
Tonganoxie got off to a slow start and fell, 3-0, to Maranatha Academy.
The Chieftains finished the season 7-9-2.
9. Kraft wins 300th
In his 24th year as a head coach, Tonganoxie girls basketball coach Randy Kraft reached quite a milestone — 300 wins.
The 2008-09 campaign was Kraft's seventh coaching the Chieftains. The team's final win of the season marked Kraft's 127th win at THS.
The program has averaged just more than 18 triumphs a year in his tenure, which includes a run of four straight Kaw Valley League championships from 2004-2007 and state tournament berths in 2005 and 2007. The Chieftains finished fourth in Class 4A in both of their trips to state.
Kraft started his coaching career in 1985 at Colony-Crest, where he spent 16 years before coming to Tonganoxie.
10. THS boys fall in sub-state final
A quarter-century removed from its last trip to state, the Tonganoxie boys basketball team lost to rival (and eventual Class 4A state champion) Basehor-Linwood, 68-50, this past March in a sub-state final.
The Chieftains got off to a good start, but couldn't pull off the upset, which would have earned them a state tournament invite for the first time in 25 years.
THS was up 6-0 after a bucket from Jamie Everett and two baskets from Keaton Schaffer but the Bobcats' depth and experience was too much for Tonganoxie.
Jeremy Carlisle hit a three-pointer late in the first quarter that gave THS a slim lead, but the Bobcats quickly regained the advantage and never again trailed.
2009's other notable stories:
• Pistora goes to NCAA championships
• Six Chieftains win KVL track crowns
• THS reinstates power lifting team
• THS softball changes coaches
• Tonganoxie Basketball Invitational celebrates 50 years
• Tongie Tidal Waves inaugural season