5 Questions: Fire Safety
Tips for staying safe and warm during winter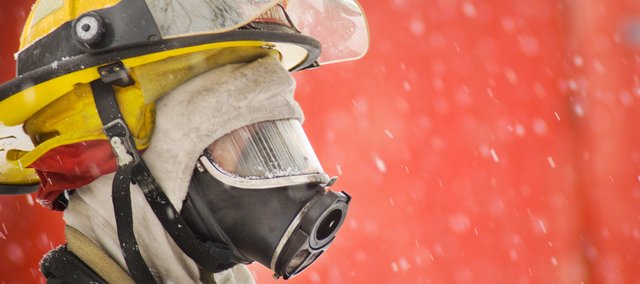 With outside temperatures dropping and snow on the ground, many people have started using fireplaces or space heaters in an effort to keep their houses warm.
In this 5 Questions, Tonganoxie Fire Department Assistant Chief Mo McCutchen shares some tips for staying safe while using such amenities in the home.
Q: Though people likely already are using their fireplaces because of the cold weather, what can residents do before lighting a fire to reduce the risk of flue fires?
A: According to the National Fire Protection Agency, heating fires account for 36 percent of residential home fires in rural areas of the United States every year. Often these fires are due to creosote buildup in chimneys and stovepipes.
• Clear the area around the hearth of debris, decorations and flammable materials.
• Always use a metal mesh screen with fireplaces. Leave glass doors open while burning a fire.
• Keep air inlets on wood stoves open, and never restrict air supply to fireplaces.
• Never use flammable liquids to start a fire.
• Build small fires that burn completely and produce less smoke.
• Never burn cardboard boxes, trash or debris in your fireplace or wood stove.
• Never leave a fire in the fireplace unattended. Extinguish the fire before going to bed or leaving the house.
• Soak hot ashes in water and place them in a metal container outside your home.
Q: What should people do in the event that their fireplace flue does catch fire?
A: At the first sign of any fire, exit the home or business and call 911. Although flue fires may seem to be contained to the chimney, often, the mortar will crack, causing the fire to extend into the attic space.

Valuable time is lost if citizens attempt to extinguish the fire by themselves prior to calling 911.
Q: What are some of the other primary causes of fires during the winter season?
A: The other leading cause of fires during the winter is space heaters.
• Keep all things that can burn, such as paper, bedding or furniture, at least three feet away from heating equipment.
• Turn portable heaters off when you go to bed or leave the room.
• Plug power cords only into outlets with sufficient capacity and never into an extension cord.
• Inspect for cracked or broken plugs or loose connections. Replace before using.
Q: What are some steps people can take to avoid putting themselves at risk of a fire this season?
A: Take some time to review fire safety practices this winter, and follow all safety instructions when using heating equipment.

Here are some links that have information about winter fire safety, as well as general fire safety tips: www.NFPA.org; www.firesafety.gov; www.tonganoxiecityfire.com.
Q: Once the weather warms up, what can residents do to ensure proper maintenance of their fireplaces in preparation for next year's winter season?
A: Have your chimney and wood stove inspected and cleaned every year by a certified chimney specialist.