Open for business
First interchange into Leavenworth County on I-70 makes grand opening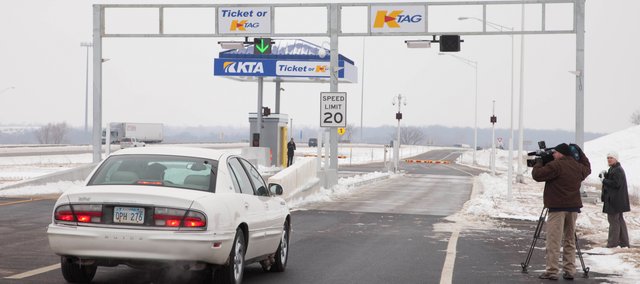 Tonganoxie resident J.W. Evans was the first to drive through the newly opened Tonganoxie/Eudora interchange. The Evans Real Estate owner said he served as "chauffeur" to fellow Tonganoxie resident Bill New, chairman of First State Bank and Trust, and Bill Green, former Leavenworth County Public Works director. The three were asked to be the first through the interchange.
"I think it's great," Evans said about the interchange opening. "I think it's going to take a few years for it to be paid for. But with the growth we'll have I think it will be an asset for us."
With Tuesday morning's opening, the Tonganoxie/Eudora Interchange on Interstate 70 is the first in Leavenworth County and the first automated interchange in the state.
The $16.7 million project, which connects a refurbished Leavenworth County Road 1 to the interchange, is a collective effort among the Kansas Turnpike Authority, Leavenworth County, the city of Tonganoxie and state and federal departments of transportation.
Roughly a half hour after the first car went through the interchange, about 60 people gathered for a grand opening ceremony of the interchange at Tonganoxie Middle School.
KTA president and CEO Michael Johnston, as well as Leavenworth County commissioners Clyde Graeber and John Flower and KTA chairman Mary E. Turkington spoke about the project before other officials joined them in a ribbon cutting.
Johnston said after the ceremony that talk of an interchange in Leavenworth County actually had been kicked around since the early 1990s, but funding had been the issue. He was glad to see it finally become a reality.
Graeber said the project wouldn't have been possible without the work of the late Harley Russell, a community leader in Leavenworth who helped form what now is known as the Leavenworth County Development Corporation.
After the ceremony, Flower said County Road 1 is a much safer road now that it has been renovated, and though development won't happen overnight, he said Leavenworth County would be working with the city of Tonganoxie to properly plan for growth.
"Because we have access to an interchange, within two days there will be smokestacks and hotels," Flower said, discussing misconceptions about growth along County Road 1. "That's not going to happen."
Turkington, who has been on the KTA board since 1997, said she expects the interchange to not only benefit economic development in the immediate area, but statewide as well.
The revamped Leavenworth County Road 1, also known as 222nd Street, is a 5.62-mile stretch of road from just south of Tonganoxie at the intersection of U.S. Highway 24-40, to the intersection of Kansas Highway 32.
Tonganoxie City Administrator Mike Yanez called Tuesday's interchange opening "a milestone in Leavenworth County history."
The interchange is exit 212 and is equipped with automated payment machines, similar to ATMs at banks or self-payment machines at grocery stores, as well as a lane for K-Tag users.