Democrat bows out of 2nd Congressional District race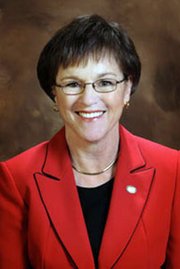 State Sen. Laura Kelly, D-Topeka, has dropped out of the race for the 2nd Congressional District, which includes southern Leavenworth County.
"This has been a very hard decision, but it is the right one," Kelly said Thursday in a news release.
"As the financial condition of this state has worsened, it has become clear that there are not enough hours in the day or days in the week to make it possible for me to fulfill my duties as a state senator who is the ranking member of the Senate's budget committee and be a fulltime candidate for Congress," she said.
Kelly was seen as the favorite to win the Democratic nomination to challenge U.S. Rep. Lynn Jenkins, R-Topeka, who won the seat in 2008 by defeating first-term Democratic incumbent Nancy Boyda.
Kelly's announcement is another in a series of setbacks for the Kansas Democratic Party, which earlier this month saw its most promising gubernatorial candidate, Tom
Wiggans, drop his election bid.