Balance is power for Chieftains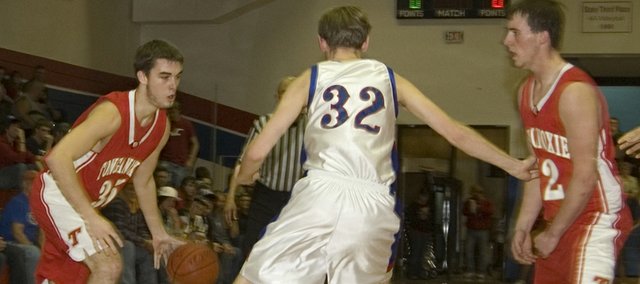 Carbondale — If there is one thing Tonganoxie High boys basketball coach Shawn Phillips really likes about his team, it's the squad's balance.
Seven players scored five or more points as the Chieftains took care of business in a game they were supposed to win, defeating Santa Fe Trail, 60-40, on Friday.
"Every night it seems like there's somebody who will step up and fill that role that we need," Phillips said, echoing a sentiment he often has talked about this season.
Tonganoxie (8-4) trailed briefly in the second quarter but responded with a 13-0 run that started when sub Justin Jacobs scored two of his six points to give the Chieftains the lead for good. The rest of the run featured five points from Keaton Schaffer, who led THS with 13, two baskets from Jamie Everett, who finished with eight, and a transition layup from point guard Jeremy Carlisle, who scored seven.
Senior guard Jace Waters scored 12 points, all in the second half, for Tonganoxie and the team's big man, Austin Smith, scored nine points despite spending the bulk of the game on the bench with foul trouble. Substitute forward Brandon Yoder chipped in five.
Because all the players run the floor, Everett said, everybody gets opportunities to score. The senior forward said that doesn't change when Tonganoxie goes to its bench.
"Our bench is awesome. We could put guys in for our starters that it's just like we never took our starters out," Everett said before praising the team's frontcourt subs. "You put Yoder in, he brings as much athleticism as anybody on the team."
As for Jacobs? "Not only is he sizeable," Everett said, "but he can shoot the ball as well."
Facing a Chargers team without a league victory, THS, 4-1 in the KVL, effectively kept pace with the league's other top teams — Basehor-Linwood, Lansing and Piper — which Waters said was critical.
"That's big for league standings because coach just wanted us to come in here and just put our foot on them and beat them real bad," the senior said.
Once the Chieftains established a healthy lead, there was no let up. That made Phillips happy because he said the main emphasis entering the contest was the team's mindset.
"If we do want to threaten for one of the top spots in league," he said, "then we need to go on the road and win, and coming off a pretty good win against De Soto, we wanted to make sure the guys were focused and ready to go."
Everett said the Chieftains were satisfied with the way they played, but couldn't afford to get overly excited because the next game on the schedule was a big one on Tuesday at Basehor-Linwood, the only undefeated team in KVL play.