Bobcats blast Tonganoxie boys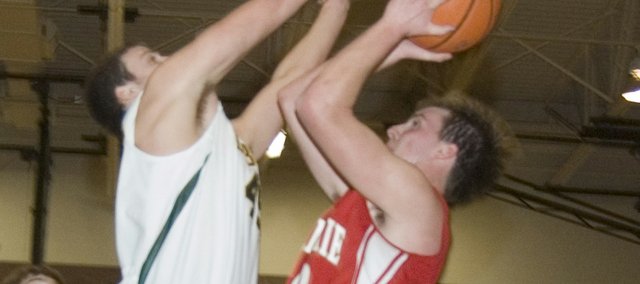 Basehor — When Basehor-Linwood boys basketball coach Mike McBride exited the locker room on Tuesday night following his team's matchup with rival Tonganoxie, he didn't seem pleased.
"I wasn't real happy with our overall performance," the coach said.
One would have thought the Bobcats had just dropped their first league game of the season instead of the opposite — BLHS blasted the Chieftains, 81-59.
McBride didn't have a problem with his squad's 13-0 run to start the game, a punch from which THS never recovered.
Chandler Schaake was the first Bobcat to score, draining a jumper, and his bucket was followed by a barrage of points in the paint, a recurring theme on the night. Ryan Murphy converted a three-point play inside and Clint Schierbaum scored down low three straight times before Schaake hit a baseline jumper to put the Bobcats up 13.
Not until senior THS forward Jamie Everett hit a pair of free throws 3:34 into the contest did the Chieftains get on the board. But their offensive struggles continued until halftime — BLHS scored more points (15) in the first four minutes than THS did in the entire first half (14), and Tonganoxie trailed by 24 at the break.
Even though THS never was able to make things interesting after the first quarter, the BLHS coach was disappointed by his team's play.
"I really felt like we didn't have much in the tank after that for whatever reason," McBride said.
Regardless of the scoring margin, Basehor-Linwood (11-2 overall, 6-0 Kaw Valley League) can't afford to coast if it wants to make noise in the postseason, said the team's coach.
"When you're getting ready for sub-state, you want a killer instinct for 32 minutes," McBride said.
Defense was a problem for Tonganoxie (8-5, 4-2) throughout the game and coach Shawn Phillips said the worst part was the Chieftains failed to defend the BLHS attack the way they had game planned.
"We didn't do the things to start that we had talked about," he said. "We were terrible on the defensive end of the floor."
The Chieftains couldn't stop their foes inside or outside and four Bobcats — Schierbaum (15), Murphy (13), Richie O'Donnell (12) and Schaake (11) — scored in double figures. Mark Vaca and Anthony Pierce were right behind them with eight apiece.
Phillips said his team had gotten away with less-than-perfect defensive efforts in the past, and that doesn't work against a team like Basehor-Linwood.
"They exploited us. We didn't do a good job of not letting them catch it in the post and they made us pay for it," the THS coach said, noting that the Bobcats finished those inside chances. "When you're shooting from two feet every time down the floor, you're going to shoot a high percentage."
Sophomore point guard Jeremy Carlisle hit two threes and led THS (8-5) with 15 points. Junior forward Keaton Schaffer scored 13, as did senior center Austin Smith.
Tonganoxie travels Friday to Perry-Lecompton.
Score by quarters
Tonganoxie 7 7 19 26 — 59
Basehor-Linwood 21 17 22 21 — 81
Tonganoxie scoring
Jamie Everett 4, Brandon Yoder 4, Jeremy Carlisle 15, Justin Jacobs 2, Keaton Schaffer 13, Austin Smith 13, Dylan Scates 8
Basehor-Linwood scoring
Chandler Schaake 11, Ryan Murphy 13, Clint Schierbaum 15, Richie O'Donnell 12, Mark Vaca 8, Justin Gripka 3, Colin Murphy 3, Anthony Pierce 8, Tanner Bowers 6, Jake Hattock 2