Chieftains place ninth at Baldwin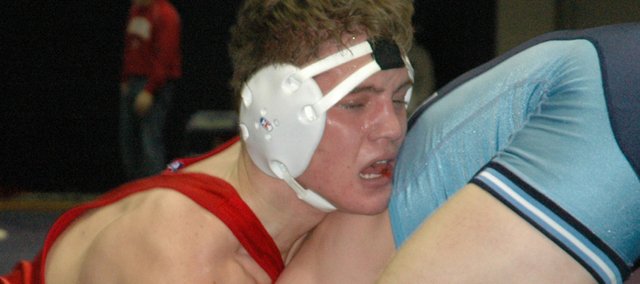 Competing in just nine of the 14 weight classes on Saturday at the Baldwin Invitational, the Tonganoxie High wrestling team had two of its seniors finish second and took ninth in the team standings.
Chieftain senior leaders Matt Brock (140) and Steve Davis (189) both went 3-1 at Baldwin for second place. Brock lost, 5-4 in double overtime, in the championship match to Abilene's Kelly Kane. Davis was defeated, 6-5, by Lansing's Nathan Wessel in his title bout.
Tonganoxie coach Jeremy Goebel said the invitational was a tough tournament and the two seniors are always in the mix for a championship berth.
"Those two are pretty productive week in and week out, so it's not surprising to see them that high," Goebel said.
The coach called Brock's loss a heartbreaker, and noted that the team's win leader (29) will have a chance to again face Kane at the team's regional tournament at Abilene on Feb. 20-21.
Davis wrestled Wessel at Holton a week earlier and lost, but Goebel said Davis showed much improvement against the Lansing wrestler the second time around.
"That means we're getting that much closer. The next time we wrestle, I think we're going to win that match," Goebel said.
Davis won't have to wait long for another shot at his foe. Tonganoxie has duals with Lansing and Bonner Springs on Thursday at BSHS beginning at 5:30 p.m.
A few other THS wrestlers had a successful Saturday at Baldwin. Freshman Adam Thomas (103) went 3-2 and finished fourth, 171-pound junior Jeremie Maus went 2-2 for fifth place and 119-pound freshman Caleb Himpel was sixth with a 2-3 record.
The underclassmen showed well at the tourney, their coach said.
"They're turning it on toward the end here, each week they're getting better. That's exactly what you want to see, especially from freshmen," Goebel said. "Himpel's been turning it up a notch the last couple of weeks."
Thomas also showed improvement, defeating Santa Fe Trail's Kale Cauthon, a wrestler whom he had lost to twice this season, by a 4-2 decision.
After competing in five straight tournaments, the Chieftains return to dual events this week. Goebel said THS, which is 7-4 in duals this season, is looking forward to the matchups with Lansing and Bonner Springs.
"Hopefully this week we can go out and compete in every match and put ourselves in a situation to win the dual," Goebel said.
Myers 1st at JV tourney
At a junior varsity tournament at Pleasant Ridge this past weekend, four Tonganoxie wrestlers competed, and 189-pound freshman Jonas Myers finished first, going 4-0. Shane Starcher (145, freshman) went 2-2 and finished fourth, as did Hank Somers (285, sophomore). Freshman Anthony Baker (119) was 1-2.
Baldwin Invitational
Team Standings
1. Abilene, 264
2. Andover Central, 222.5
3. Prairie View, 212
4. Lansing, 199.5
5. Oak Park, 193
6. Mill Valley, 142.5
7. Santa Fe Trail, 135
8. Baldwin, 130.5
9. Tonganoxie, 107
10. Labette County, 88
11. Paola, 77.5
Tonganoxie results
103 — 4. Adam Thomas, 3-2
119— 6. Caleb Himpel, 2-3
135— 8. Jon Harris, 1-4
140— 2. Matt Brock, 3-1
145— 8. Kevin Hamm, 1-4
160— 9. Jeremy Elliott, 0-4
171— 5. Jeremie Maus, 2-2
189— 2. Steve Davis, 3-1
215— 8. Austen Holloway, 0-4