No. 1: back to back
THS

debaters repeat as state champions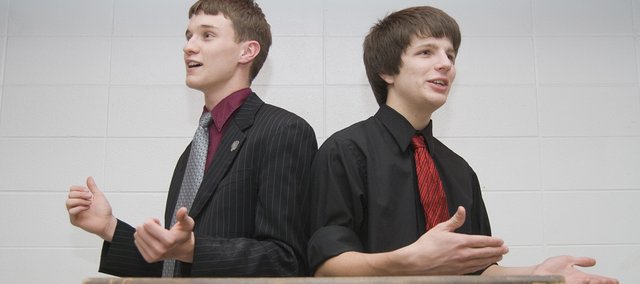 These guys sure can talk.
They are Tonganoxie High School seniors Dalton Lawson and David Powell — or D and D, D-squared, D-Law and D-Powell, depending on who you ask — and, thanks to Tonganoxie's run of dominance at state debate, they are Kansas Class 4A two-speaker debate champions for the second year in a row.
Just as in 2008, Lawson and Powell formed one of two Tonganoxie duos to advance from a field of 60-plus teams to the state finals — Matthew Doyle and Brenden Brower-Freeman, who finished second, joined them in January and John Land and Matt Williams did the same last year — creating what THS debate coach Steve Harrell called a closeout tie, a scenario in which the two Tonganoxie teams don't debate each other in the final and the school is awarded first and second places.
When Lawson and Powell were juniors, the seniors decided — as a way to split up the glory — to take the first-place medals and D-squared got their names listed as champs. This year, D and D was the higher-ranked seed, so they again got the nod.
Even though Harrell said the back-to-back champs essentially share their crown with their THS teammates, Lawson argued he and Powell could prove their spot given the opportunity.
"We still know outright we could debate them right now and it would be over," Lawson said with a playful, confident smirk.
As far as the Lawson-Powell team is concerned, there is no refuting their state champs status, and they take great pride in pulling off the feat in consecutive years, which no two-person group has ever done in the Tonganoxie debate program, which includes 12 state titles.
"It's kind of history and it's great to leave on a good note," Lawson said.
Added Powell: "I think it would have been bad to go out in second place after winning last year. It proves to everybody that it wasn't some kind of fluke or anything like that. We're legit and nobody's as good as we are."
That statement may come across as arrogant but with the gift of gab the duo toes the line between cocky and confident. Harrell said each debater brought different strengths to the team that complimented the other.
"David can be prickly in some tense moments and has a razor tongue," the coach said. "Dalton is a little more level-headed and steadying."
While Lawson would rather talk it out in the heat of battle, Powell, a tireless researcher, turns to evidence. The topic at this year's state competition: Incentives for alternative energy. A broad, difficult topic for which to prepare, Powell started writing the case they used at state in December. D and D spent hours in the THS debate room researching the topic, everything from wind to trash.
"I think I had like 75 pages of extension evidence," Powell said. "We were prepared for anything they could possibly say against it."
Once that material is compiled, Lawson said, it is the ultimate weapon.
"You put it all on paper, and you just go with what you wrote down because after you're done talking, you really don't remember what you said. It's kind of hard to remember eight minutes worth of speech and you're usually reading like 30 pages," he explained.
With that much information to divulge, Powell said it can be difficult to process. Even for the debater.
"You don't have to understand it all the time," he said. "Just make sure the judge understands it, that's all that really matters."
When you are the state debate champions, it's all in the oration.