THS

girls find rhythm, avoid blues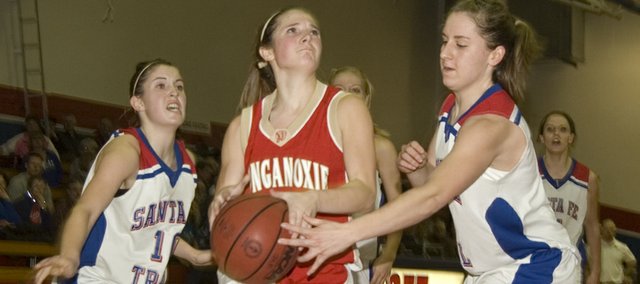 Carbondale — If basketball is a game of rhythm, then the Tonganoxie High girls team was off beat for the first 22 minutes on Friday at Santa Fe Trail.
But late in the third quarter, the Chieftains found their tempo, got hot and were more Coldplay than Milli Vanilli, rallying from a 16-point deficit for a 46-44 victory.
Before the Chieftains (9-3) went on an 8-0 run to close the third quarter and outscored the Chargers, 18-8, in the fourth quarter, they just couldn't find their normal pace or style.
"We were never playing our game, we weren't in a rhythm offensively," THS coach Randy Kraft said after the narrow win.
SFTHS took a 16-point lead, its largest of the game, in the third quarter before Tonganoxie finally got flowing. Senior forward Roni Grizzle, who led THS with 21 points, set the tempo for the comeback with a strong layup that was followed by three free throws from Andie Jeannin, a freebie from Grizzle and a jumper from Haley Smith in the final seconds of the third period.
The two teams traded scores early in the fourth quarter before senior THS point guard Chrissie Jeannin went on a personal 8-0 run and gave her team a 41-40 lead with 4:36 remaining. She said it was about time.
"I know I didn't play very well the first three quarters," Jeannin said of the slow start during which she scored four of her 12 points. "It was just a really weird game."
The late third-quarter push, though, got the players out of their funk and into the game.
"I think we just started getting in our rhythm," Jeannin said, "and started playing and not worrying about anything else."
The biggest factor in the victory might have been the team's positive attitude. Junior guard Lauren Hall said the Chieftains didn't get too down on themselves and never believed the game was over, despite the double-digit deficit.
"Every good play that you make, even if it's not a basket, you've just got to build on it," Hall said.
Hall did her part on both sides of the ball during the victory. Her three-pointer was the first THS field goal of the fourth quarter. Then, with 5.5 seconds remaining and her team up just two, Hall's defense made Santa Fe Trail's Shara Luther work hard to get open on an inbound play, and once the Charger got the ball, Hall forced her into a tough shot that didn't draw iron. That's the kind of play that Hall finds satisfying.
"Just to know that we played good defense, solid defense for a good five seconds to force them into a bad shot is just a great feeling," she said.
Kraft said Hall's pesky defense is her greatest strength and made a difference in the game, noting that he went with a smaller lineup to put more pressure on their opponents' guards.
"She still almost fouled out, but she got several steals and deflections out of it, and kind of took them out of their rhythm," Kraft said of Hall.