BOCC

: Residents should use local banks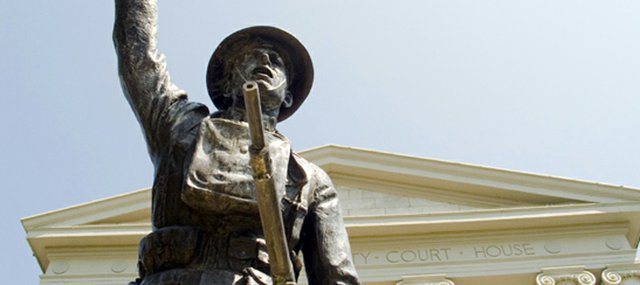 Residents who want money to help remodel their homes should utilize local banks, the Board of County Commissioners said Monday.
The board did not move to endorse a loan program sponsored by the Mid America Regional Council and the Community America Credit Union.
Some cities in Leavenworth County, like Tonganoxie, have singed on to the loan agreement that offers up to $30,000 at a fixed interest rate of 1.35 percent below a homeowner's home equity loan rate for the homeowner to make improvements. The loans would be available to residents who have a credit score of 620 or higher and have property valued at less than $200,000.
"I just can't see the county endorsing a program for an out-of-state bank when we can do the same thing in Leavenworth County," Commissioner Clyde Graeber said.
Chris Donnelly, of Mid-America Bank, spoke to the commissioners and said the MARC program would not put their bank at a competitive disadvantage, but only a marketing disadvantage and that his bank was quite capable of making the same loans available to residents.
In other business Monday:
• The commission heard a quarterly report from the Geographic Information Systems director, Jeff Culbertson. Culbertson said they have just completed plotting all of the cell towers in the county.
• Listened to a quarterly report from Donna Graf, county appraiser.
• Listened to a quarterly report from Robert Doyle, Juvenile Detention Center director.
• Unanimously voted to put out an RFQ for architectural services to explore all avenues regarding the EMS building on Eisenhower. The current EMS south building, which shares room with the Leavenworth County Health Department and the county extensions office, has run out of room. Additionally, the building's owners will not allow the county to install a second means of egress outside of the building for the station's living quarters.
• Unanimously voted to accept a decrease of $853 to change order no. 6 for the Justice Center jail project.
• Listened to a report from Heather Morgan, the county administrator, on a bill that would repay the county the $645,000 it was shorted on the City County Highway Fund distribution.
• Met in executive session for 10 minutes to discuss non-elected personnel. After coming out of executive session the commission voted unanimously to appoint an investigative panel comprised of Stacy Driscoll, Larry Malbrough and Robert Doyle.
• Unanimously passed a motion to approve amendment change to the planning and zoning regulations.
• Unanimously approved the planned unit development and special use permit on a tract of land on Suncatcher Lake.
• Unanimously voted to pay $130,511.50 to Trickel Construction for work don on the north EMS station.
More like this story