Tonganoxie girls handle Kaws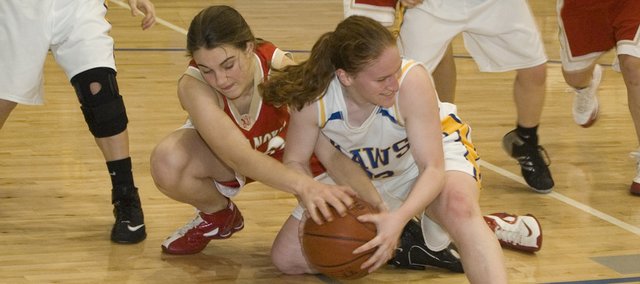 Perry — The Tonganoxie High girls basketball team held Perry-Lecompton scoreless for the first 6:38 of the fourth quarter to defeat the Kaws, 46-36.
The Chieftains outscored PLHS 10-0 in that stretch as senior point guard Chrissie Jeannin scored six of her 13 points, Andie Jeannin cashed one of her three three-pointers and Lauren Hall hit a free throw.
After going scoreless in the first quarter, Perry-Lecompton's Megan Elder got on track in the second quarter, when she scored nine straight points, helping the Kaws to a one-point halftime lead.
Although Tonganoxie (10-4 overall, 5-2 Kaw Valley League) didn't get its normal scoring output from forward Roni Grizzle, who was trapped every time she touched the ball, Abby Eisman and Danielle Miller did a nice job of knocking down open jumpers created by the double- and sometimes triple-teams.
Tonganoxie will play host to Bonner Springs on Tuesday at 6 p.m.
Score by quarters
Tonganoxie 11 11 14 10 — 46
Perry-Lecompton 9 14 8 5 — 36
Tonganoxie scoring
Chrissie Jeannin 13, Andie Jeannin 13, Roni Grizzle 5, Haley Smith 2, Abby Eisman 6, Lauren Hall 3, Danielle Miller 4
Perry-Lecompton scoring
Katie Hirsch 5, Abbey Bays 2, Katie Volle 2, Taylor Akagi 2, Emma Gantz 5, Megan Elder 17, Natasha Carver 3